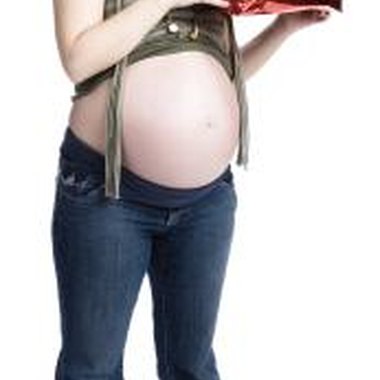 Non-traditional baby showers move away from the stereotypical Sunday afternoon at Grandma's house and toward a more modern party that reflects the personality and style of the parents-to-be. Use your home computer and printer and some publishing and photo editing software to design one-of-a-kind shower invitations that will result in happy anticipation of a non-traditional party.
Family Tree
Give baby shower attendees a sneak preview of what the new bundle of joy may look like by using baby photos of the mom- and dad-to-be on the baby shower invitation. Locate a photo of each parent, in a similar pose if possible, then place them side-by-side on the invitation front. Make color photos black and white and use traditional photo corners to give it a more retro look. When you gather mostly relatives and extended family members for a baby shower go a little further with the family tree theme on the invitation. Use smaller photographs of the mom and dad, plus add a few more generations of babies including the soon-to-be grandparents and the great-grandparents. Use a headline like "Help us get ready for the new apple in the family tree" to tie it all together.
Artistic Slant
Classic painters like Botticelli created realistic oil paintings that captured the mystery and grace of pregnant women. Use these images to design your non-traditional baby shower invitation. Use a digital copy of "Primavera c. 1478" by Sandro Botticelli or the familiar "The Arnolfini Portrait" by Jan Van Eyck on the cover of your baby shower invitation along with a headline like, "Joining a fine tradition..." Match up your non-traditional invitation with artistic activities such as tummy painting, henna tummy tattoos or a group effort to paint a mural on the nursery wall.
Sugar and Spice...
Especially convenient if you are inviting all the girls from work or the neighborhood, use a "Sugar and Spice" theme on an edible baby shower invitation. Purchase the new mother's favorite kind of bar and apply a baby shower invitation label you make yourself. Measure the length and width of the candy bar then type in your invitation on a piece of paper that will be cut to fit. Wrap the invitation around the existing wrapper or apply it to the front of the bar if it's wide and flat. Use a headline like, "Whether it's Snips and Snails or Sugar and Spice, we want to celebrate the upcoming addition..." and include all the pertinent party details. Friends are sure to remember the party and the invitation long after the chocolaty goodness is gone.
For an Adoption
Adoptive moms-to-be need baby showers too, even if the "baby" is a tot or older. This non-traditional family deserves to celebrate with a non-traditional party. Commemorate the details of an upcoming international adoption by incorporating some of the child's culture or ethnic differences into the shower invitation. Put together a graphic featuring a stork with the country's flag in his mouth or a photo of the guest of honor holding the flag of the adopted child's country. Images of passports, plane tickets or adorable children's luggage all help to alert friends and family of the beginning of this new non-traditional family.
Photo Credits
Jupiterimages/PhotoObjects.net/Getty Images