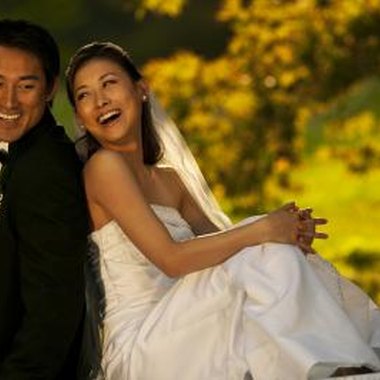 Weddings are events to celebrate a new couple's entrance into married life, though they are often also seen as social events where alcohol is included. If you are getting married and wish to have an alcohol-free event, there are ways to let your guests know this in advance so they have an idea of what to expect from your big day.
Invitation Etiquette
Wedding invitations should reflect your personal style as a couple regardless of whether alcohol will be included at the event. If your wedding is formal, choose paper invitations with the information about the wedding printed on them. For a more informal wedding, some people go as far as sending email invitations. The style is dependent on the personality of the day, so choose something that makes you feel comfortable and happy.
Basic Information
The invitations need to include basic information such as the place, time and reception venue. In addition, the parents of the bride or groom are often listed as hosting the event, particularly if they have paid for a portion of the budget. Other basic information should include whether the wedding is formal or informal so that people know what to wear. Directions to the locations are a helpful addition that can be included as well for the convenience of your guests.
Information About Alcohol
Include a small line about the event being alcohol-free on the lower left corner of the invitation that talks about the reception venue. Wording such as "This will be an alcohol-free event" or "No alcohol is permitted at the wedding" will provide your guests with enough information. You can also place one of those lines on the RSVP card that guests send back to let you know they are attending.
Another Idea
Since a wedding is a celebration of your marriage, it is not necessary to include information about alcohol in the invitation. Wedding invitation etiquette does not require that you include anything about the alcohol at the event, so consider this as another alternative unless you are extremely worried about upsetting your guests when they arrive and alcohol is not being served.
Photo Credits
Comstock Images/Comstock/Getty Images