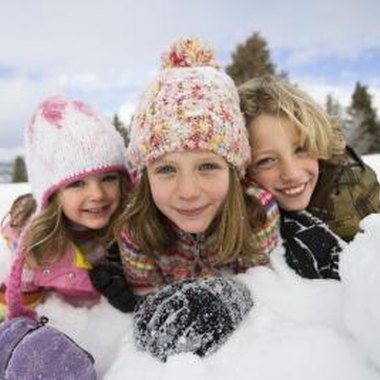 Your little girl's ninth birthday party is a time to celebrate the fact that she's almost a tween and has grown to develop her own interests and decorative preferences. If her birthday falls during the winter, there are several ways to incorporate symbols of the season into a colorful or craft-inspired celebration that your daughter and her friends will enjoy.
Holiday Cookie Birthday Party
If your daughter's birthday is near Christmas, a ninth birthday holiday cookie party is a tasty way to celebrate. Ask each of your daughter's nine friends to bring her favorite Christmas cookies to the event, and supply the guests with edible decorations such as sprinkles, chocolate candies and colored sugar. Have a cookie-decorating competition and give each child nine minutes to decorate her batch of cookies in the most creative and colorful way she can. While listening to Christmas carols, help the kids wrap a few of their favorite cookies in colorful plastic wrap to take home.
Backyard Sledding Party
If you live in an area that gets a considerable amount of snow during the winter, invite your daughter's friends to a sledding birthday party in your backyard. Send invitations to guests in the shape of the number nine, and add small earmuffs or a winter hat to the top of the number as a nod to the winter season. Come up with some fun games, such as giving each small team of kids nine minutes to create a fashionable snowman with the accessories you've provided, or having short races to see who can sled to the bottom of the hill in less than nine seconds. Serve a birthday cake made of three circular cakes in the shape of a snowman, or a dessert that looks similar to the birthday invitations.
Winter Craft Party
Purchase supplies for your daughter and her nine guests to create winter crafts. For instance, give each child large paper images of the number nine in light blue and white, and give them scissors and glitter to make the paper look like snowflakes. Cover the projects in Con-Tact paper for each child to take home. Or, give each partygoers supplies -- such as cotton balls; stencils of houses and snowmen; and wooden craft sticks -- to make mini-sleds or mini-skis. Also, provide sturdy poster board and glue. After each child creates her masterpiece, secure the textured artwork in a large white, silver or blue frame with a glass or plastic covering to serve as an elaborate party favor for each child.
Apple Orchard
Take your daughter and nine of her friends to the nearest apple orchard, if weather permits, to pick fruit and take lots of candid pictures. Once all the kids have gathered the fruit they want, treat everyone to fare such as apple cider and an apple-flavored birthday cake in the shape of the number nine. Or buy fruits that are associated with the cold months of the year in groups of nine -- such as apples, pumpkins and rhubarb -- and hide them in the backyard for party guests to find. When the children gather their entire "harvest," invite them inside to prepare the fruits in the form of roasted pumpkin slices with honey and sliced almonds; apple wedges covered in caramel; or mini-rhubarb tarts made with prepared crust.
Photo Credits
Jupiterimages/Comstock/Getty Images