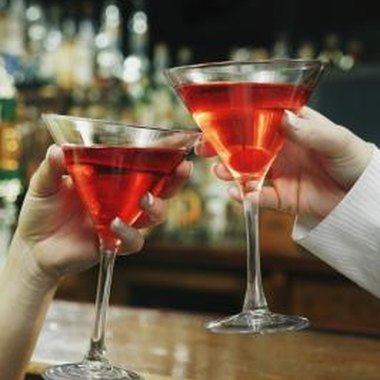 Louisville, Kentucky, famously known for its daytime crowd pleaser the Kentucky Derby also hosts a nightlife that is fueled as much from a thirst for fun as it is from bourbon. As Kentucky's largest city and the namesake to France's King Louis XVI, the city accentuates its heritage while not forgetting the illuminated relevance of today, giving nighttime fun seekers in Louisville plenty of options for fun.
Where to Go
Fodor's cites two main destinations for quality nightlife in Louisville: downtown and Bardstown Road. Downtown is where you'll find the larger performing arts scene, with the symphony, opera, ballet and Broadway plays, all of which can be found at the Kentucky Center (kentuckycenter.org). Along Bardstown Road, you'll find boutique shops for nighttime shopping and plenty of restaurants, coffee shops and a street scene that may include the occasional street performer. Outside of these areas, it seems that you can't mention Louisville nightlife without mentioning the Phoenix Hill Tavern (phoenixhill.com). This nightclub, open since 1976, has featured big national music acts such as Kings of Leon and Blues Traveler. It also has a retractable roof that opens the night sky to the club's dining and dancing. Also try the BlueGrass Brewing Company (bbcbrew.com) for drinks and music and the Actors Theatre (actorstheatre.org) for shows.
What to Do
Ninety-five percent of the world's bourbon is distilled in Kentucky, notes Fodor's, and this percentage has indeed translated into the common nighttime thirst among Louisville's partygoers. Kentucky's Department of Travel suggests the Urban Bourbon Trail, a collection of citywide bars, such as the Bourbons Bistro (bourbonsbistro.com/Bourbons/home.html) and the Old Seelbach Bar (seelbachhilton.com/03_b_dining.php), which serve at least 50 different kinds of bourbon. The website HelloLouisville details regular area offerings of dance clubs, piano bars, concerts and sports events that help keep the night alive and attempt to give truth to the words, "When the sun goes down in Louisville, the nightlife heats up." For dance clubs, check out Jim Porter's Louisville (jimporters.com) or Drake's Louisville (drakescomeplay.com).
Getting Around
If choosing to travel the Urban Bourbon Trail, keep in mind that a car is considered a necessity to get around in Louisville, so assign a designated driver or plan on taking the bus (ridetarc.org). All areas of the city are connected by expressways and parkways leading out of downtown. Also consider that public transit is limited, making nighttime travel via bus convenient only along certain routes. Another classic option, if you are not in a big hurry to multiple bars and clubs, is simply to walk, especially if exploring Louisville's nightlife downtown. The River Walk, which runs partly downtown through Waterfront Park, has paved stretches that border the water for pleasant nighttime views.
Considerations
If drinking seems to go hand in hand with nightlife fun, for many smoking does also. As of July 2007, though, no bars, restaurants, clubs --- essentially any public establishment --- may allow smoking inside their buildings. Those who wish to smoke may do so outside the buildings, as long as they stay a reasonable distance away from windows and doors so that smoke doesn't affect those inside. Further, if spending a few nights in Louisville, there are numerous hotel options downtown, which do allow for smoking in selected private rooms.
References
"Fodor's Essential South"; Fodor's; 2009
"Insider's Guide to Louisville, Kentucky and Southern Indiana"; Chip Nold, Bob Bahr; 1997
Photo Credits
Brand X Pictures/Brand X Pictures/Getty Images