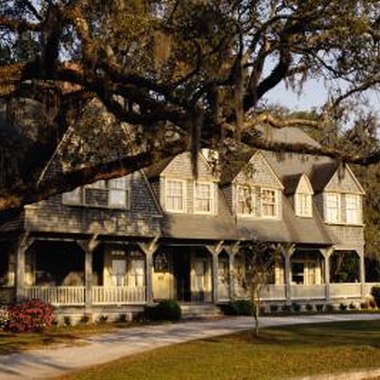 The state of Georgia provides diverse options for visitors looking for a good time. The hill country in the north provides ample hiking, while the Atlanta area provides the sites and sounds of a cosmopolitan city. Mild winters make Georgia a good place to visit any time of the year, though, the dead of summer can bring extreme heat and humidity.
Savannah on the Coast
Setting for the famous novel "Midnight in the Garden of Good and Evil," the historic city of Savannah, Georgia, provides visitors with a welcome blend of history, comfort and fun. A city ordinance allows for the carrying of alcoholic beverage along the famous River Street, where visitors can peruse this series of old cotton-shipping buildings turned boutiques. The old market district is home to numerous art galleries and serves predominantly as a pedestrian street path. Those with a car can opt to drive to Tybee Island, where Georgia meets the Atlantic coast. Along the way you will pass historic Ft. Pulaski National Monument (nps.gov/fopu/planyourvisit/index.htm), a preserved civil war fortress, which offers regular demonstrations throughout the summer.
Athens and Northern Georgia
The northern part of Georgia provides bountiful natural wonders and a relatively small town with an eclectic mix of businesses. Originally formed by damming for hydropower projects, the Gorge now offers incredible views and miles of hiking. In the autumn, the Georgia Power company does an "aesthetic release," sending more water tumbling down through the gorge creating an even more beautiful scene. Due east of Tallulah is Amicola Falls State Park. In addition to having the highest falls in Georgia, Amicola's eight miles of hiking tails lead to Springer Mountain, the southernmost point of the famous Appalachian Trail. Both Talluhla and Amicola are listed among the "Seven Natural Wonders of Georgia." Nearby, the college town of Athens provides a relaxed environment, with tree-lined streets providing shade as denizens dine throughout the cities restaurants. "GQ" magazine called Athens one of "the coolest small cities in America" in the November 2012 edition. Local brewer Terrapin (terrapinbeer.com) provides excellent brews and is open for tours throughout the week.
Atlanta
The largest city in Georgia also boasts one of the busiest international airports in the world. Home to Turner Broadcasting and Coca-Cola, Atlanta is a thriving metropolis that offers just about any culinary experience a traveler could want. Families may enjoy the Underground Atlanta (underground-atlanta.com), a historical portion that rests beneath the city's viaducts and offers retail stores, restaurant, gift shops and entertainment.
Cumberland Island
The southernmost barrier island of Georgia's coast is home to both a major wildlife refuge and more than 87 historic structures. Access to the island is only available via ferry, and communications are limited. Accommodations range from basic campsites to the historic and luxurious Greyfield Inn (greyfieldinn.com). This getaway provides visitors with a bucolic, historic experience in a coastal paradise.
Photo Credits
Jupiterimages/Photos.com/Getty Images