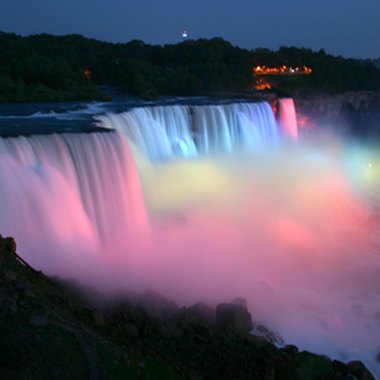 The city of Niagara Falls in Ontario offers tourists spectacular views of its namesake's two waterfalls, known as the American and Horseshoe falls. Because of its distinctive vantage point, the Canadian city draws millions of tourists every year and offers dozens of hotels to accommodate these visitors. However, for those who want front-row seats for this natural wonder, the city's Fallsview neighborhood has eight hotels, most of them high-end properties, that are closest to the falls.
Hilton Niagara Falls/Fallsview
With 1,000 guest rooms and suites housed in two high-rise buildings, one of which soars 53 stories above the falls, this Hilton hotel dominates the riverfront skyline in the Fallsview neighborhood. A heated/air-conditioned sky walk connects the hotel to the Niagara Fallsview Casino across the street. The hotel has an indoor water park and four restaurants, including the rooftop Watermark, which offers fine dining along with stunning views of the falls.
Marriott Niagara Falls Fallsview & Spa
Only 100 yards from the river's edge, this 23-story, 432-unit Marriott hotel gives its guests, particularly those who stay on higher floors, excellent views of the waterfalls. Facilities include a full-service spa, indoor swimming pool, outdoor sundeck, Starbucks cafe and the Terrapin Grille Restaurant overlooking the falls.
Oakes Hotel Overlooking the Falls
In a novel marketing campaign, this 21-story, 242-unit hotel guarantees to provide its guests the best views of the falls. More reasonably priced than some of its neighbors, the hotel has an on-site Applebee's restaurant and a 14th-floor observation lounge.
Sheraton Fallsview Hotel & Conference Centre
This 32-story, 407-unit hotel, only 200 yards from the falls, sits in the heart of the Fallsview Boulevard tourist district and offers its guests two restaurants, a Starbucks cafe, bar/lounge, fitness center, indoor swimming pool, and Fallsview terrace and observation deck.
Best Western Fallsview Hotel
Only five minutes from Queen Victoria Park, which directly overlooks the falls, this six-story, 243-unit hotel welcomes visitors with pets, which can stay in guest rooms and suites for an added nightly fee. Facilities include indoor and outdoor swimming pools, restaurant/lounge, late-night tapas lounge, 24-hour convenience store, and business center.
Embassy Suites Niagara Falls-Fallsview
Towering over the nearby waterfalls, this 42-story, all-suites hotel is a smart choice for family groups and travelers planning an extended stay. Its 512 two-room suites have separate sleeping and living rooms, as well as limited kitchen facilities, including microwave ovens, refrigerators and wet bars. The on-site Keg Steakhouse offers sweeping views of the falls.
Doubletree Fallsview Resort & Spa
Only two blocks from the river's edge overlook, this 18-story, 224-unit hotel offers guests a wide array of amenities, including a day spa, sauna, fitness center, two swimming pools and an art gallery. On-site dining options include Buchanan's, which serves breakfast, lunch and dinner, and the Moose & Squirrel Pub, open for breakfast and lunch.
Sheraton on the Falls
Adjacent to the Falls Avenue Entertainment Complex, which includes a large indoor water park, this 22-story, 670-unit hotel affords guests excellent views of the falls. Hotel facilities include a full-service spa, shopping arcade, indoor and outdoor swimming pools, business and fitness centers, and a Starbucks cafe. The penthouse-level Fallsview Restaurant serves breakfast, lunch and dinner daily.