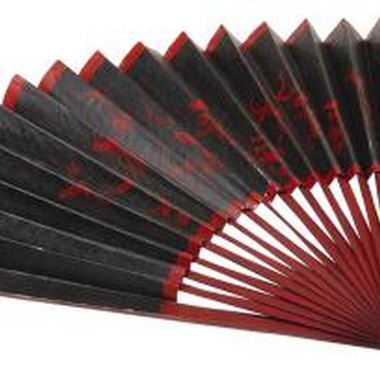 Ni Hao translates to the greeting "hi" in Mandarin Chinese. The children's cartoon show "Ni Hao Kai-Lan" features the helpful, lovable, Asian girl, Kai-Lan. Give your next birthday or Chinese New Year party a Ni Hao theme. Incorporate the fun Asian flair of Kai-Lan into the many details of your party.
Invitations
Send out invitations to your party that Kai-Lan would approve of. Since she loves flowers, give invitations that feature colorful flowers. Write your party guests' names in Chinese characters and display them on the invitations. Another option is to give invitations that feature Kai-Lan's animal friends like Rintoo the tiger, Tolee the koala, Hoho the monkey and Lulu the rhino. If you wish to get really crafty, put fortune cookies inside Chinese takeout boxes. Include an invitation in each box as well and hand-deliver them to your guests.
Food
Serve Chinese food at your Ni Hao party. Order take-out or make your own. Serve foods like dumplings, egg rolls, pot stickers, noodles, sweet and sour chicken, fried or steamed rice, chow mein and green tea. Offer chopsticks for your guests to eat with. For dessert, make cupcakes that are topped off with a fortune cookie resting on top of the frosting, or make sugar cookies that have Chinese characters written in frosting.
Decorations
Decorate your party with Asian-inspired items. Hang Chinese paper lanterns, fans or parasols from the ceiling of your party venue. If your party is outdoors, hang these decorative items from tree branches. Use weighted Chinese take-out boxes with helium-filled balloons attached to them as table centerpieces. Bamboo plants can also be used as centerpieces. Display a large banner on the wall or entryway that greets guests with the phrase, "Ni Hao." Balloons, tablecloths and party hats that feature characters from "Ni Hao Kai-Lan" can also be used.
Activities
Give your party guests activities to participate in that relate to the "Ni Hao Kai-Lan" television show. Have each guest decorate a brown paper bag as one of the characters from the show and then let guests perform a puppet show. Give your guests supplies like wire and authentic Chinese beads to create Chinese bracelets to take home. Teach your guests to speak various phrases of Mandarin Chinese or make origami animals from paper.
Photo Credits
Hemera Technologies/PhotoObjects.net/Getty Images