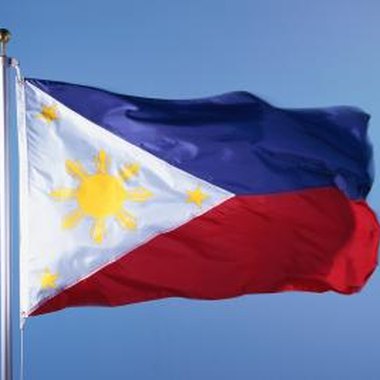 On the first Sunday of June each year, the Philippine Independence Day Council (PIDCI), with the support of the Philippine Consulate General of New York, produces a festive Philippine Independence Day Parade in New York City. The parade celebrates the Philippine declaration of independence from Spanish colonial rule, which took place on June 12, 1898. The PIDCI states that the parade's objectives are to celebrate Philippine independence for Filipinos residing throughout the Northeastern region of the United States, create awareness of Philippine culture and raise funds for current and future charitable projects.
Schedule of Events
As of publication, the day's events begin early at 8 a.m. with a flag ceremony and a commemorative Independence Thanksgiving mass at the Philippine Center on Fifth Avenue. At 10 a.m., the street fair festivities begin along Madison avenue for two blocks. Opening ceremonies preface the parade that starts on 38th Street and Madison and continues downtown to 27th Street. At 2 p.m., an open stage on Madison and 23rd Street hosts cultural presentations and performances until the closing of festivities at 6 p.m.
Independence Day Parade
The parade is led by the Philippine Independence Day Council grand marshals and their guests of honor. The entire parade consists of dancers dressed in indigenous costumes, marching bands, traditional dances, open cars, various Filipino-American community organizations such as Philippine Nurses Associations, and the NYPD Asian Jade Society. There also are floats, beauty queens, tribal drumming and dance.
Street Fair
The street fair comprises food vendors who serve a delectable and rich variety of Filipino cuisine, ranging from popular dishes like pancit (fried noodles), barbecue pork, skewered fish balls, chicken adobo (chicken stewed in vinegar, garlic and soy sauce), lumpia (fried spring rolls) and other thick and saucy stews with plenty of steamed white rice. Alongside food stalls are booths from Filipino-American community support groups.
Cultural Show
The cultural show is the highlight of the parade festivities as it showcases talented artists and performers in the Filipino community. Sometimes acts travel from across the U.S. and abroad. As of publication, the stage for the cultural show is on Madison Avenue and 23rd Street and lasts from 2 p.m. to 6 p.m. The showcase is made up of bands, dancers, singers and special celebrity performances. The show's headliners perform last to cap the day's festivities.
Photo Credits
Stockbyte/Stockbyte/Getty Images