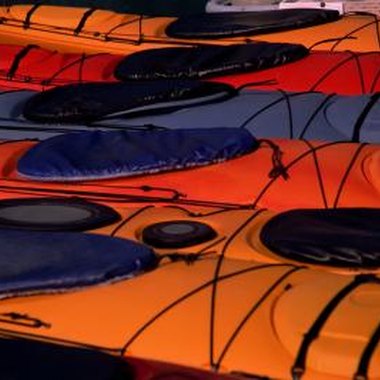 New York state law defines a kayak as a "pleasure vessel." The main purpose of New York's laws regulating kayak use is to help ensure that kayaking in New York remains pleasurable for everyone. In addition to safety laws, though, some kayakers view certain laws as an infringement on personal rights.
Safety
Those who are 18 years old and older don't need safety training to operate a kayak. However, those between 10 and 17 years old either need adult supervision or may operate alone if they have taken an approved boating-safety course. Those under 10 years old cannot operate a kayak at all. Additionally, as of 2011, if your kayak is less than 21 feet in length, anyone in it must wear a personal flotation device -- or PFD -- between Nov. 1 and May 1. These PFDs must be Coast Guard-approved, in good working condition, appropriately sized for the intended user and within easy reach in case of an emergency. And while no legal regulations are mandated by the state, the Office of Parks, Recreation and Historic Preservation does encourage kayak users to understand well the nature of paddling a smaller vessel, and to be aware of larger-boat traffic. Doing this will complement obeying safety regulations.
Qualifications
Those interested in using their kayaking skills to teach others how to enjoy a kayak on New York waters must be lined up with the law first. The state's Department of Environmental Conservation requires that kayaking guides -- whether offering their guidance in order to teach others how to kayak or to show them the navigable sights -- must be 18 years old and licensed by the state. Qualifying for a license involves filling out an application, being deemed physically fit by a licensed physician, and showing a competent understanding of state laws and regulations that govern outdoor guides. Additionally, the applicant should be certified to give first aid and CPR, and should have training in community-water safety.
Legal Disputes
"Canoe and Kayak" magazine published an article in its July 2011 issue showcasing a dispute between a paddler and a property owner who sued the paddler for trespassing on water that hugged private land. According to state law at the time, any stretch or body of water that isn't navigable, or that cannot be traversed safely and successfully by the average paddler, qualifies as a restricted waterway. In 2010, though, Phil Brown ignored the visible "No Trespassing" signs posted around Mud Pond in Adirondack State Park. From his point of view, the water there was navigable and so didn't qualify as a restricted passage. The private landowner, though, didn't agree. Although Brown was on a canoe, the case illustrates the drama that may also ensue between private landowners and kayakers who seek to enjoy their kayaks on New York waters.
Extras
The writer of the "Canoe and Kayak" article, Matthew Sturdevant, made this assertion about paddler rights to water access: "Waterways don't belong to anyone. They're for all of us. A fence over a river is like a homeowner declaring a no-fly zone over their roof: ridiculous." With this passion for paddler rights, though, comes responsibility. The book "Take a Paddle: Western New York Quiet Water for Canoes and Kayaks" cites New York's PFD law and adds further advice that, while not mandated by law, helps regulate a better kayaking experience. This includes knowing how to swim, wearing footwear, keeping a good distance from dams, and taking a waterproofed emergency kit that includes snacks, water and an emergency space blanket.
References
"Take a Paddle: Western New York Quiet Water for Canoes & Kayaks"; Rich Freeman, Sue Freeman; 2004
Photo Credits
Jupiterimages/liquidlibrary/Getty Images