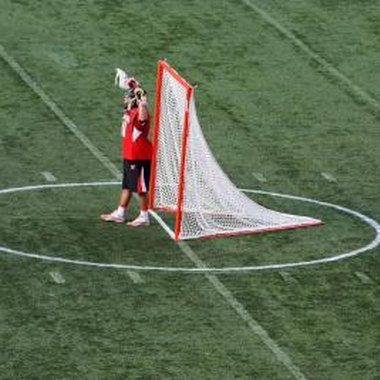 New York is home to many collegiate lacrosse teams, as well as the Rochester Knighthawks and Buffalo Bandits of the National Lacrosse League (NLL). Goalies hoping to reach these levels of play can receive instruction at a number of camps in the state. Camp options include goalie-specific sessions and goalie-related instruction within larger camps.
The Goalie School
In Millbrook, Roanoke College coach Bill Pilat puts on The Goalie School (laxcamps.org), a five-day overnight camp dedicated to lacrosse goalies. Players receive extensive individual training. Practice techniques include strength and agility drills, reflex tests, clearing, stick-handling and even field play where goalies become comfortable at other positions. Additionally, goalies do some drills with a smaller stick to improve hand-eye coordination and concentration. Goalies at the camp are videotaped, giving them a chance to identify areas of weakness and improve. As of July 2011, the camp costs $710 to attend.
Millon Lacrosse Camp
The Millon Lacrosse Camp (millonlacrosse.com) offers The Brick Wall Goalie School for aspiring netminders. Held in Long Island, this camp provides three five-day sessions during the summer. Two-time All-American goalie Brent Herbst is one player who will instruct campers. Goalies will work on stance, positioning, passing, communication and how to warm up. An added bonus of being inside a larger camp is goalies get to test their skills in games with other field players at the camp. As of July 2011, the camp costs $710 to attend overnight or $565 for days only.
Homer Lacrosse Camp
The Homer Lacrosse Camp (homerlacrosse.com) provides training for all positions, including goalkeepers. The five-day clinic is two hours per day. Campers are videotaped, allowing for film study and quicker improvement. Goalies learn stick-handling and defensive team concepts from Rich Barnes, a former coach.
All American Lacrosse Camp
At Colgate University in Hamilton, the All American Lacrosse Camp (aalaxcamp.com) has been instructing players since 1966. The four-day camp features a goalie school that uses video to improve skills. Campers are split into groups with goalies of similar ages and skills. The players receive instruction on numerous aspects of the game, including tactical, physical and mental.
Rochester Knighthawks Lacrosse Camp
Put on by the Rochester Knighthawks of the NLL, the Boys Knighthawks youth lacrosse camp (rochesteryouthcamps.com) provides instruction to players of all positions. Campers get to work with players on the professional level, including Matt Vinc, the 2010 NLL Goaltender of the Year. Campers can choose between full-day and half-day programs for the four-day camp. As of July 2011, goalies pay $159 for full-day and $109 for half-day.
Photo Credits
Rob Carr/Getty Images Sport/Getty Images