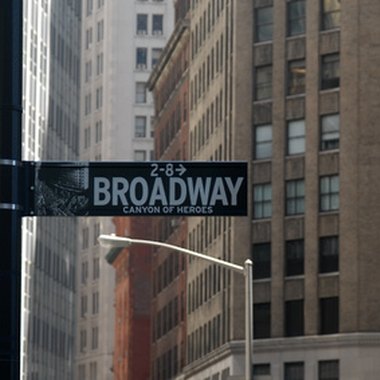 Manhattan is covered with theaters, virtually from top to bottom. But what most people think of as Broadway is a concentration of New York's main commercial theaters west of Broadway between Times Square and W. 52nd St. The area is the heart of Manhattan for visitors and, as such, is served by a a variety of hotels. The choice of hotel depends on the kind of break you are planning.
A Romantic Break
A romantic theater weekend in the heart of Manhattan is usually chic and sophisticated. Hideaways in this part of town are low on roaring fireplaces and crystal chandeliers, high on modern style and luxury pampering. The Muse Hotel, on West 46th Street, is part of the Kimpton Group. Renovated by the owners in 2007, it has 200 rooms and suites with luxury bathrooms and glamorous beds. Some rooms have balconies surrounded by the bright lights of New York. A specialty at the Muse is the in-room "Mind.Body.Spa" program with a range of treatments, yoga and meditation that couples can enjoy in the privacy of their room. For romantic dining, couples can choose from the hotel restaurant's full menu for in-room dining (or on their private balcony in good weather).
Shopping and a Show
The Time, one of Vikram Chatwal's unusually named hotels (others in Manhattan are called Dream, Stay and Night), is a boutique hotel on West 49th, within easy walking distance of some of Fifth Avenue's best shopping. Rooms are fashionably minimalist yet colorful, with the room's personality conveyed by a single, bright primary color -- hot red, royal blue, sunny yellow. The hotel's city break rates for bed and continental breakfast are relatively modest for a Manhattan hotel. Special features for fashionistas include personal shoppers and limousine services -- for carting back all the packages in style before dinner and a show.
Introducing the Kids to Broadway
Whether it's a once-a-year or once-in-a-lifetime experience, seeing a big, family-oriented Broadway musical can be one of the highlights of childhood. The cost of a family visit to the theater district of Manhattan can be high, and budget options suitable for children are rare. Frommer's recommends the Doubletree Guest Suites in Times Square as one of New York's best family hotels. The 45-floor, 40-room all-suite hotel has one floor set aside as "child-proof." All suites have kitchenettes with refrigerators, microwaves and coffee-makers for preparing light meals for young, fussy eaters. Suites, available as one or two bedrooms with one or two double or queen beds, have separate living areas with fold out sofa beds. This hotel offers Times Square entertainment packages with discount vouchers for local restaurants, family-friendly tours and attractions
Entertaining An Important Client
New York hotels are practiced at providing for business travelers. Executives who travel to the city expect a "standard" level of service, decor and in-room amenities that would be considered "luxury" in many other places. So impressing an important visiting client -- or the boss -- is about more than a trip to New York with dinner and theater on the side. The Westin Hotel Times Square is a stylish executive class hotel with some unusual features. The hotel's workout guest rooms are equipped with either an exercise cycle or a treadmill plus a selection of weights and workout equipment. High-powered executive visitors can stay fit in private and in their own time. The hotel's spa-inspired rooms come with shiatsu massage chairs, spa toiletries and restful spa CDs for relaxing before a night out on the town.
Photo Credits
broadway avenue, manhattan, nyc image by Albo from Fotolia.com