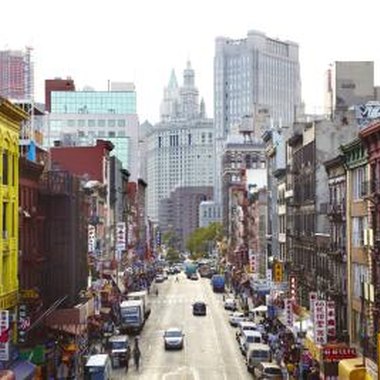 New York City is known for a lot of things, many of them glamorous and exciting. It is also known, however, for high-priced hotels that are notoriously small, making family trips to the Big Apple an exercise in togetherness. Although seldom billed as a family destination, some hotels do go out of their way to accommodate the youngest generation of travelers.
Times Square
When sojourning to New York City with children of any age, it's a fair bet that their preconception of the experience includes the iconic bright lights of Times Square. Few hotels in this area have an abundance of kid-oriented amenities, but an exception is the Doubletree on Broadway. All of their rooms are suites, with one childproof floor devoted to families. Two televisions offer pay movies and video games, and a Kids Club is available for ages 3 to 12. At check-in, the whole family receives free chocolate chip cookies.
Midtown West
Le Parker Meridien on West 56th Street is in a good location between Sixth and Seventh Avenues, within walking distance to Times Square and Central Park. It has a rooftop swimming pool, as well as basketball and racquetball courts, and an informal burger joint in the lobby. Even the elevators entertain, with cartoons and Charlie Chaplain clips. Hotel Metro on West 35th has a retro feel to it and offers family room suites where the sitting areas have been converted to second bedrooms. Free wireless Internet throughout the hotel keeps the whole family connected, and a library helps quiet things down at the end of the day.
Central Park
It's hard to find a closer family-friendly hotel to Central Park than the Ritz Carlton, right across the street, on Central Park South at Sixth Avenue. Nightly rates are high, but the hotel goes all out for families traveling together. At check-in, receptionists dole out toys and a childproofing kit. At night, a butler can draw baths complete with tubby toys and a special children's turn-down service. Room service includes a kids menu. If that's not enough, request a room facing the park with telescopes and bird-watching books or order a horse-drawn carriage to pick you up out front. Babysitting services are also available.
Upper East Side
The Carlyle Hotel wins the kids over at check-in, with cupcakes and jelly beans, then invites them down for a Madeline Tea on Saturday and Sunday afternoons. Rooms have child-size robes and slippers, as well as children's skin care products. The staff can arrange babysitting, and 24-hour room service allows kids to request what they want to eat. For the younger ones, this hotel gives out bed rails, bottle warmers and baby monitors.
Photo Credits
Thomas Northcut/Photodisc/Getty Images