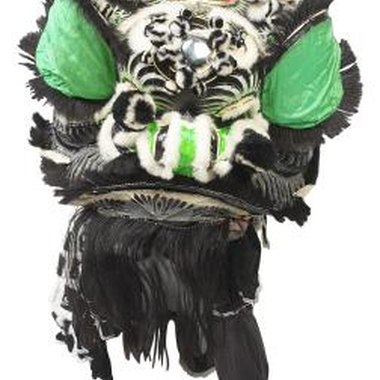 Chinese New Year falls in January or February each year and has done so since the tradition began in the 14th century B.C. The ancient Chinese calendar rotates through 12 zodiac signs. Each sign is represented by an animal such as a rooster, rabbit or dog. A parade takes place in Chinatown in New York City every year as the area's large Chinese population celebrates a cultural tradition.
The Parade
The Chinese Lunar New Year parade is held annually on a Sunday in the end of January or the first half of February. The parade starts around 11:30 a.m. and runs until around 4 p.m. The parade has over 3,000 participants ranging from marching bands to traditional dragon dancers to local VIPs and beauty pageant winners. The parade is attended by government officials and celebrities and concludes with an outdoor cultural festival held at Sara Roosevelt Park. The parade does not follow the traditional route used by many other cultural parades, which in some ways takes away from its public impact. Instead it runs from Mott and Hester streets and makes its way through the Chinatown area.
Onlookers & Media Coverage
The parade is a spectacle which draws an average crowd of around 400,000 people each year and a fair share of media coverage. The Chinese New Year parade is broadcast live by local and international media outlets. Parts of the parade appear on local news shows and it is covered by major newspapers. International networks like China Central Television also feature video of the event.
Chinatown
Chinatown is a large and growing section of downtown Manhattan which is bordered more or less by Broome street to the north, Canal street to the south, Christie street to the east and Broadway to the west. The area was once split nearly evenly between Little Italy and Chinatown, but is now dominated by the latter. Chinatown is filled with shops, restaurants, cultural centers and markets owned and operated by Chinese immigrants who have recreated a scene from home on the streets of Manhattan. Chinese is the dominant language and the experience is authentic.
Other Events
A wide selection of events based on the Chinese New Year take place during the week of the Chinatown parade. The city's museums stage special exhibitions highlighting Chinese culture and art. The China Institute (Chinainstitute.org) holds dance performances and special walking tours investigating the parade preparation process. Parades and celebrations are also held in other areas of the city with large Chinese populations, such as Flushing in Queens. There are several family events from which to choose, including Chinese New Year at the Queens Zoo (Queenszoo.com), Lunar New Year Festival Family Day at the Museum of Chinese America (mocanyc.org), and the Lunar New Year Dance Sampler at Flushing Town Hall (Flushingtownhall.org).
Resources
Photo Credits
Hemera Technologies/PhotoObjects.net/Getty Images