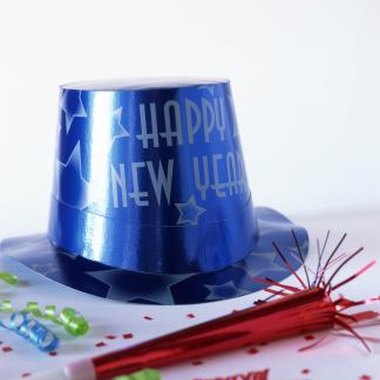 Raleigh, North Carolina, likes to ring in the New Year in a big way. Throughout the city, a variety of New Year's Eve events traditionally take place, including parades, parties, live shows, fireworks and more. Celebrate with someone special, friends or the kids; there's plenty to do for both adults and children.
First Night Raleigh
First Night is an annual celebration in downtown Raleigh, usually kicking off at 2 p.m. on New Year's Eve with a children's celebration. A "People's Procession" follows down Fayetteville Street. An early countdown takes place at 7 p.m., followed by live performances by musicians, comedians, dance groups and more in at least a dozen venues along Fayetteville Street and in the Museum District. A tram operates between all the venues, which host festivities until after midnight. As the clock strikes midnight, an acorn is dropped in a ceremony unique to Raleigh; fireworks follow.
North Carolina Symphony
The North Carolina Symphony long has rung in the New Year with a special concert. The concert typically features Viennese waltzes, Sondheim tunes, French songs and Cole Porter favorites. The New Year's concert takes place in the evening at Meymandi Concert Hall on South Street.
Hotels
The North Raleigh Hilton (hilton.com) holds an annual New Year's Eve Extravaganza, featuring dinner at the upscale hotel restaurant as well as drinks and live music. There are before and after dinner parties in the lobby, two ballrooms and multiple hotel rooms. The extravaganza is geared toward young people who want to mix, mingle and party into the new year. The Umstead Hotel and Spa (theumstead.com), just outside of Raleigh in Cary, partners with Herons Restaurant to offer an eight-course New Year's Eve dinner that includes free-flowing champagne at midnight. The Raleigh Marriott City Center also holds a New Year's Eve celebration.
Dinner/Club Parties
Head to Poole's Diner (poolesdowntowndiner.com), Red Room Tapas Lounge (redroomraleigh.com) and Zely & Ritz (zelyandritz.com) for New Year's Eve dinners and drinks in a festive atmosphere.
Photo Credits
Creatas Images/Creatas/Getty Images