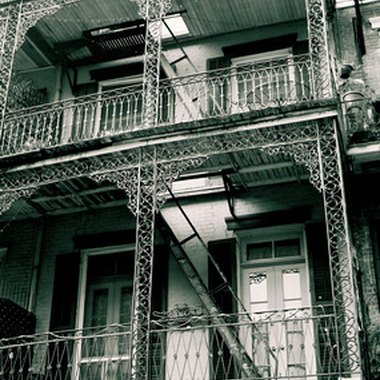 The Crescent City, the Big Easy, NOLA, Birthplace of Jazz -- and most recently the City That Care Forgot -- are monikers for New Orleans. The city has roots that trace to French, Spanish, Native American and English settlement, and the local culture blends these roots in a unique transformation that is evident in its cuisine, customs, art and architecture. Visitors can experience a taste of Southern hospitality at the local hotels and accommodations located throughout the Crescent City.
what is a fallback
Crescent City Historic Hotels
The Chateau Bourbon, now part of the Wyndham hotel chain, opened for business in 1849 as the D.H. Holmes department store. After 150 years of operation as a store, the building reopened in 1995 as a 251-room hotel with luxury accommodations. The Chateau is strategically located in the French Quarter with petite, one-bedroom and two-bedroom suites and planted courtyards for dining or relaxation. The Roosevelt New Orleans Hotel, a Waldorf Astoria Collection Hotel, welcomed such notables as President John F. Kennedy and Elvis Presley. The Roosevelt's 504 rooms and suites today offer modern technology, as well as historic elegance. On-site dining at the hotel includes the Sazerac Restaurant, John Besh's Domenica Italian restaurant, Teddy's Cafe and a pair of lounges, including the Rooftop Bar at The Roosevelt.
New Orleans Boutique Hotels
The Queen & Crescent Hotel, rated by AAA as a three-diamond hotel, served originally as the headquarters for the Queen & Crescent Railroad and dates to 1918. This hotel puts guests within walking distance of the French Quarter, Convention Center, Superdome and Harrah's Casino. The boutique hotel offers antique European furnishings and original artwork by regional artists. A light continental breakfast is included in the rate. An executive fitness center; Club Car Lounge; and modern high-tech features, including wireless Internet access, are standard features for all rooms. The Ambassador Hotel, located on Tchoupitoulas Street four blocks from the French Quarter, was transformed into a 165-room hotel from several historic warehouses. Hotel amenities include free continental breakfast, on-site dining at the Extreme Sports Bar and Grill, and business and fitness centers.
New Orleans Luxury Accommodations
Le Pavillon Hotel, located in downtown New Orleans adjacent to the French Quarter, offers guests easy access to tourist attractions on Bourbon and Royal streets and sports activities at the Louisiana Superdome and the New Orleans Arena. The historic Le Pavillon, a member of both the Leading Hotels of the World and the Historic Hotels of America organizations, first opened for guests in 1907. The AAA four-diamond hotel offers rooms and both junior and full suites. Several suites feature wet bars, whirlpool tubs and virtual fireplaces. The Soniat House, located just three blocks from Jackson Square in the French Quarter, features antique furnishings in its 18 rooms and 12 suites. Complimentary use of the New Orleans Athletic Club, located minutes from this boutique hotel, is included in the rate.
French Quarter Hotels
Yhe Ritz-Carlton Hotel on Canal Street, only one block from Bourbon Street and close to the Garden District, offers a business center and a complete fitness center. Pets are welcomed at this French Quarter hotel with a prior reservation and payment of a daily fee. Rooms feature marble baths, 24-hour room service and complimentary overnight shoeshine service. The Monteleone Hotel and Maison de Ville Audubon Cottages partner to offer guests to the French Quarter the option of hotel room accommodations or cottage lodging in a choice of seven historic cottage units. The two locations are only one block apart and feature guest parking, an outdoor swimming pool and a complimentary continental breakfast. Children under 18 stay free in adult rooms. On-site dining is at the Bistro, under the direction of chef Greg Picolo as of November 2010, located in the Maison de Ville Hotel.