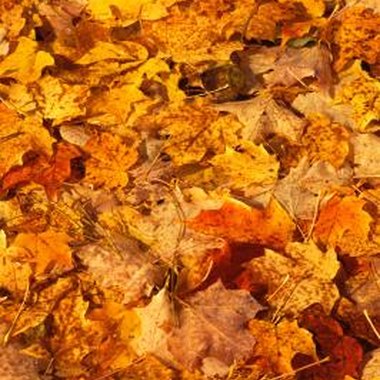 October festivals in New Jersey offer all things centered on autumn, including pumpkins, chrysanthemum flowers, crafts and fall food items such as apple dumplings and apple cider. Many festivals also attract highly skilled artisans from the Garden State and nearby New York, Pennsylvania and Delaware. October events also celebrate the culture of New Jersey including its history and agriculture.
Sugarloaf Crafts Festival
The Sugarloaf Crafts Festival (www.sugarloafcrafts.com), held the last several days of October in Somerset, New Jersey at the Garden State Exhibit Center, brings high-end and handmade crafts directly to the public. Shoppers choose from more than 250 vendors selling sculpture, pottery, jewelry, ceramics, photography and paintings. The event also features live entertainers such as the African musician, Ngu Mbandi. Demonstrations include instructions on how to do stone sculpting, make pottery and knit scarves. Admission prices for 2011 are set at $9 for adults and children under 12 are free; one ticket is good for admission to every day of the festival. Parking is free. The festival's website offers discount coupons.
Cape May Wine Festival
The Cape May Wine Festival (www.newjerseywines.com) in Cape May is held in early October at the Cape May-Lewes Ferry Terminal on Saturday and Sunday from noon to 5 p.m. The Garden State Wine Growers Association sponsors the event. Attendees may taste more than 300 fine wines produced by 23 wineries across the state and enjoy live music, crafts and food. Previous years featured music from Jingo Jive and Kato. Wine aficionados who attend the festival also enjoy Cape May's pristine beaches, gingerbread Victorian architecture -- stay at a Victorian bed and breakfast -- and gourmet food from some of Cape May's finest restaurants. Admission prices in 2010 were $20 per person. Guests must be 21 to take part in the wine tasting; admission for guests under 21 is free.
South Jersey Pumpkin Festival
The South Jersey Pumpkin Festival in Egg Harbor welcomes those seeking the autumn fruit along with craftspersons, artisans and food vendors selling pumpkin pie by the slice. Scarecrows, cookies, dolls and of course, pumpkins are for sale. Pumpkin growers bring their largest and biggest pumpkins to win prizes, and the festival crowns a "Little Miss Pumpkin." The festival runs from 10 a.m. to 6 p.m. each day. Admission prices in 2010 were $2 per person; kids 6 and under are admitted free.
Chatsworth Cranberry Festival
The Chatsworth Cranberry Festival (www.cranfest.org) in Chatsworth is held in mid-October and celebrates New Jersey as the third-largest harvester of cranberries in the United States. It also attracts artisans, craftspersons and food vendors from across the region, many of whom demonstrate their craft. The local fire department serves breakfast including cranberry ice cream, jellies, breads and other baked goods. Admission is free, but organizers accept a $5 donation for a parking spot near the festival.
Resources
Photo Credits
Jupiterimages/Photos.com/Getty Images