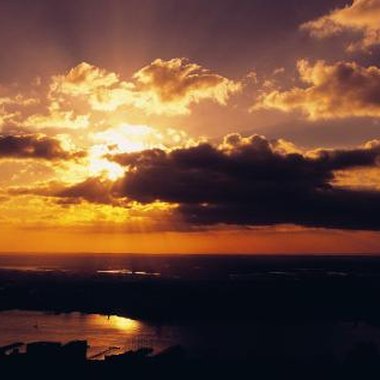 While naysayers bemoan New Jersey's industrial centers and spray-tanned tackiness on reality TV shows, the Garden State offers 127 miles of some of the East Coast's wildest beaches -- and serves as the birthplace of that sticky, perennial favorite: saltwater taffy. Staying at hotels on the beach in New Jersey remains a convenient way to access the ocean, avoiding the highways that become notoriously clogged during summertime and busy holiday weekends.
Budget
Part of a beach's charm for families has always been its relatively cheap cost to visit. It doesn't cost much to spread a beach blanket, slather on some sunscreen and romp in the rolling surf. For travelers hoping to conserve funds for fried seafood dinners and roller coaster rides, the Aqua Beach Resort motel in Wildcrest, New Jersey, offers budget accommodations. Amenities include poolside barbecues, pool towels, free wireless Internet access, DVD rentals and free weekly barbecues during July and August. The nearby Wildwood Boardwalk offers carnival rides.
Casino
Atlantic City, New Jersey's iconic kaleidoscope of busy beaches, welcomes travelers to its busy beaches, bustling casinos and party people. The Tropicana Casino & Resort won't satisfy those looking for a serene, meditative experience at the beach, but pleasure-seekers enjoy its nightclub, swimming pools, lounges, casino and restaurants. High rollers reserve the 50th floor New Yorker Suite at $10,000 per night, featuring Atlantic City views, three bedrooms, four bathrooms, private bar and grand piano. On-site spa treatments include coconut sugar scrubs, airbrush tan treatments and eucalyptus pedicures.
Bed and Breakfast
Escape to quiet Sandy Hook Bay, offering coastal views from New York City to Long Island. Visitors to The Sandy Hook Cottage bed-and-breakfast hotel stroll to the oldest working lighthouse in the country -- the Sandy Hook Lighthouse. Amenities include free wireless Internet access, afternoon and bedtime snacks, beach passes, garden patio, and outdoor hot tub. Breakfast menu items include apple strudel bread pudding and chicken apple sausage casserole. Quiet nearby beaches feature sand dunes, holly forest and bird watching. Locals know the neighborhood's Gunnison Beach as a gay-friendly and clothing-optional locale.
Boutique
The Berkeley Oceanfront Hotel in Asbury Park, New Jersey, offers a calming decor with blue and white color schemes. The boutique hotel features a palm-lined swimming pool, outdoor tiki bar, billiard room and 24-hour fitness center. Rooms include iPod docking stations, rain head showers and in-room safes. The on-site Dauphin Grille serves fried stuffed olives, roasted beet beef carpaccio and Gouda cheeseburgers.
Photo Credits
Digital Vision./Digital Vision/Getty Images