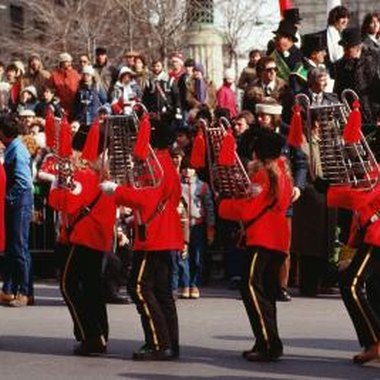 Each year, New Hampshire residents remember the sacrifices of New Hampshire veterans through an series of parades and wreath laying ceremonies. These events take place each Memorial Day in towns across the state. The parades often feature local marching bands, veterans groups and lots of American flags.
Laconia
The Laconia Memorial Day parade starts at 10 a.m. on Memorial Day. The parade takes place on Laconia's Main Street and proceeds to Laconia's Veterans Square. The parade concludes with the laying of a wreath at the soldiers and sailors monument. Hundreds attend the parade and many attendees carry small American flags.
Manchester
Each year, the residents of Manchester, New Hampshire observe Memorial Day with a parade, which starts at 2 p.m. on Memorial Day. It takes place on Elm Street and features local marching bands and representatives of veterans' organizations. The parade concludes at Manchester's Veteran's Memorial Park. Thousands of people have lined the streets for past parades.
Concord
New Hampshire's capital city also observes Memorial Day with a parade. The early morning parade starts at Storrs Street, proceeds to North Cemetery for a wreath laying and concludes at the New Hampshire State House.
Epping
Epping residents recognize Memorial Day with a morning parade. The parade starts at 10 a.m. It loops through town, proceeds to the Epping cemetery and concludes at the American Legion building. Hamburgers and hot dogs are served at the legion building. Participants can also enjoy live music.
Freemont
The Freemont, New Hampshire Memorial Day parade starts at 9 a.m. on Memorial Day. The parade starts from the parking lot of the town hall.
Henniker
Henniker, New Hampshire hosts an 11 a.m. parade on Memorial Day. The parade starts at Henniker Community School, heads over to the town hall memorials and concludes at the bandstand. Participants may also visit the Henniker Community Center to view a photo exhibit of veterans.
Photo Credits
Photos.com/Photos.com/Getty Images