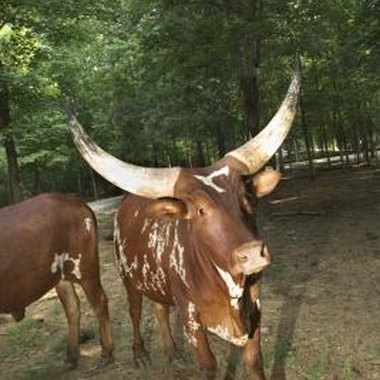 New age arts and crafts capture the spirit of people, plants and animals. The art inspires awareness of life's interrelationships. It also provokes thought and feelings of unity with nature. While beautiful, functional new age crafts are also believed to generate metaphysical properties such as healing or protection because they are made from natural materials. Many Texas-based artists offer this connection of spirit through art and sell their wares at shows across the state.
Sculptures
Several sculptors capture the spirit of the Texas landscape and Native American culture. Jurgen Hasbron uses wood, bronze and stones to capture movement such as a bird in flight, a rabbit mid-hop, an owl in a 360-degree head turn and elder with eyes closed and lips pursed as if in song. Gary Thompson uses brass to sculpt cacti and furniture pieces. These crafts sell at Arlington's Texas Indian Market, Albuquerque's Balloon Fiesta and New Mexico State Fair Ground, Blanco's Lavendar Festival Market, and Rockport's Art Festival.
Jewelry
Are you looking for jewelry made from real gems and metals indigenous to Texas, such as sterling silver, lapis, onyx, gold, opal, blue chalcedony, garnet, chrysoprase or turquoise? One jewelry maker, Randy Bryant, refers to his materials as God-given and claims that the stones themselves dictate how they should be paired and set. Another artist, Gail Kincaid, crafts pearl rings that resemble babies being held between fingers. Wearable new age art is showcased at the annual Rio Grande Arts and Crafts Spring Show, Albuquerque's New Mexico State Fair Ground, Rockdale's Tejas Art and Book Festival, the Dallas Arboretum's fine art festival (dallasarboretum.org), Fayetteville's Art Walk and Pampa's Fine Art and Crafts Festival.
Mesquite
New age aficionados and Texas art lovers alike appreciate woodwork created from the state's native mesquite wood. Mesquite shapes in the form of functional lamps, bowls and vases in both standard and non-traditional figures is showcased in shows all across the state. Some pieces have a polished patina while others are made to look weathered. Mesquite crafts shimmer and exude a sense of time-tested longevity. Look for these pieces at Austin's Lady Bird Johnson Wildflower Center and Pecan Street art show, Richardson's Huffhines Art Trails, The Woodlands' Panther Creek and Market Street shows and Fredericksburg's Texas Mesquite Association art show.
Paintings
While not three-dimensional like the other art forms, paintings capture breath-taking scenes of still life in the southwest just the same. Art lovers are able to view backdrops from paintings that sculptures, jewelry and functional pieces cannot offer. Paintings of grazing buffalo, tribal elders and the dancing Kokopelli fertility god are featured at the Beachcombers Fine Art Show in South Padre Island's Convention Center, Round Top's Emma Lee Turney's Folk Art and Creative Arts Fair, Corpus Christi's Al Amin Shrine Gun Show, Kerrville's Kerr County Fair, Aransas Pass' Civic Center Show and The Art Center in Dumas, Texas (dumasmuseumandartcenter.org).
Photo Credits
Thinkstock/Comstock/Getty Images