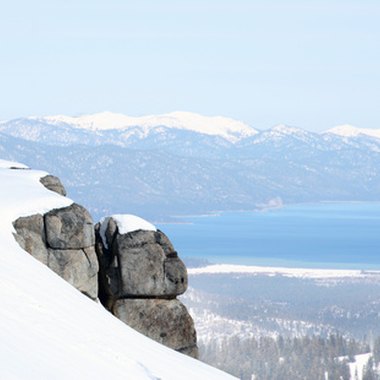 Nevada is among the most mountainous states in the United States, with more than 300 named ranges crossing the state. Most are in desolate rural areas devoid of commercial or tourist development, but the Sierra Nevada, Spring and Ruby ranges -- located on opposite sides of the state but boasting similarly spectacular, high Alpine terrain -- feature a handful of resorts that might be of particular interest to adventure travelers.
Heavenly Valley
Perched on the border between Nevada and California, Heavenly Mountain Resort overlooks the crystal blue waters of Lake Tahoe. Among the area's largest ski resort, Heavenly boasts two dozen lifts servicing runs in both states. The Nevada side has a reputation for steeper, more off-piste terrain while the California side, facing the lake, boasts groomed runs such as Gunbarrel that appear as though they might drop you right into the drink at the bottom. In fact, a gondola ride to the bottom will bring you to Heavenly Village, the resort's shopping, dining and entertainment area. Sports shops dominate the shopping options, offering sporting gear and accessories as well as equipment tuning and repair. The resort does not offer its own lodging facilities, but visitors can take advantage of everything from posh casino resort hotels -- Harrah's, Harvey's and MontBleu, for example -- to budget motels, all within walking distance of the gondola. During summer, Heavenly rebrands itself as "Adventure Peak." Guests can ride the gondola to the 9,156-foot level to take advantage of such attractions as the Heavenly Flyer, a 3,100-foot-long zipline ride that the resort claims is "the longest in the lower 48 states."
Resort on Mount Charleston
Located in southern Nevada's Spring Mountains, 30 minutes from Las Vegas, 11,918-foot Mount Charleston is the state's third-tallest peak. Visitors to the Resort on Mount Charleston, with an elevation of nearly 7,000 feet, will find significantly cooler temperatures than in the valley, along with miles of hiking and mountain biking trails. In winter, guests can take advantage of the Las Vegas Ski & Snowboard resort, a 15-minute drive away. The resort underwent an extensive renovation in 2009-2010 and offers 62 hotel rooms and suites, many with mountain-view balconies. A full-service spa provides such indulgences as hot-stone massage, reflexology and herbal body wraps. Two restaurants, The Bistro and A Cut Above, offer a range of options, from standard steak-and-potatoes dinner house fare -- plus a few exotic entries such as buffalo osso buco and elk strip loin -- to more casual sandwiches, pastas and Kobe beef burgers. The resort encourages wedding bookings with such specialty packages as the Winter Wonderland Wedding, and can accommodate up to 200 guests.
Reds Ranch
Operating in conjunction with adventure outfitters Ruby Mountain Heli-Experience, Reds Ranch serves as a lodging and staging area for powder hounds seeking backcountry nirvana in eastern Nevada's fierce Ruby Mountains. Located in Lamoille, Nevada, just outside of Elko, Reds Ranch features mostly rustic lodgepole decor. There are 10 sleeping rooms with private bathrooms, and a community dining area. The lodge provides a hearty breakfast and upscale dinner daily -- subject to visitors' arrival patterns -- and provides heli-skiers with a take-along packaged lunch. Pre-ski and apres-ski, guests can enjoy a game of billiards or a book from the lodge library, or perhaps a night of gaming and dining in nearby Elko.
Hyatt Regency Lake Tahoe
Located in Incline Village in north Lake Tahoe, the Hyatt Regency provides a lodging option for patrons of nearby Mount Rose and Diamond Peak ski areas, neither of which offers lodging. In addition to standard amenities, rooms feature iPod stereos, 37-inch flat-screen TVs, minibars and data ports, as well as pristine views of the lake and surrounding mountains. The hotel is best known among locals for its Lone Eagle Grille, a satellite lakeside restaurant with floor-to-ceiling lakeview windows, outsize lodge decor and huge stone fireplaces. The cuisine is upscale steakhouse style with Asian and French influences; sample entrees include the Kurubota pork chop and a seafood trio featuring seared ahi with wakame mango salsa and wasabi. Additional amenities include a full-service spa, lakeside bar and fire pits, and sunset sails on the resort's 55-foot catamaran, the Sierra Cloud.
Photo Credits
view at lake tahoe, california from the mountains. image by Galina Barskaya from Fotolia.com