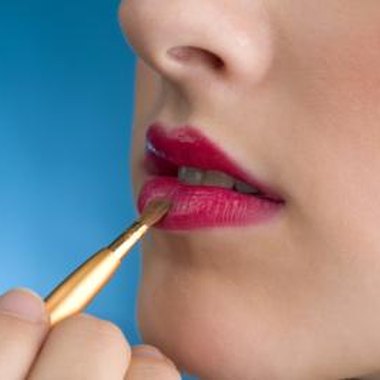 Makeover parties are fun and relaxing get-togethers during which adults, usually women, learn tips for transforming their every day look. Makeover parties are usually hosted by a woman in her home, though sometimes women get together at restaurants, banquet halls or in clubhouses. You can host a makeover party any time of the day but it's usually best to choose an evening or weekend for optimal attendance.
Beauty Consultant
Sometimes a professional beauty consultant attends the party to give makeovers to the women and then sell the products she used. These consultants are trained by the companies they represent. They know the latest beauty trends, the safest products and the appropriate techniques for different skin types and face shapes. Mary Kay Makeup Consultant, Melissa Purvis, of West Chester, Pennsylvania, says, "I start all makeovers with a mini facial. I use a cleanser with a gentle exfoliant, an age fighting day solution with SPF 25, containing antioxidants, vitamins A, C and E, followed by an age fighting moisturizer."
Makeup
No makeover party would be complete without makeup. Most makeup consultants will bring their own makeup, usually using samples on your guests. "This is the most hygienic way to apply makeup to several women at a makeover party. Makeup consultants will also provide their own brushes and applicators," says Purvis. Check with the consultant you have invited to your party to make sure she plans on bringing everything she will need. She may ask you to provide some makeup or tools.
Food and Drinks
The makeup may be the star of the show but don't forget that you are throwing a party. Be sure to have food and beverages that your guests will enjoy. As they wait for their makeovers, they'll want to nibble on finger foods. Offer healthy appetizers like a fruit or vegetable tray with a low-calorie dip or a sushi platter. You may choose to offer festive beverages such as virgin Cosmopolitans. This is a mixture of tonic water, lime juice, citrus juice, cranberry juice and ice. Serve it in a martini glass for added flare.
Camera
When your guests arrive at your makeover party snap a photo of each of them. This will serve as a "before" shot. After their makeover, take another picture. Your guests will feel like celebrities posing for the picture after their makeover.If possible, print the pictures at the party and send your guests home with fun "before" and "after" photos of themselves. If you don't have a photo printer at the party, email the photos to your guests the next day with a thank you note for coming to the party. The "after" picture will remind your guests how the makeup consultant applied the makeup.
References
Melissa Purvis, Mary Kay Beauty Consultant, West Chester, Pa
Photo Credits
Jupiterimages/liquidlibrary/Getty Images