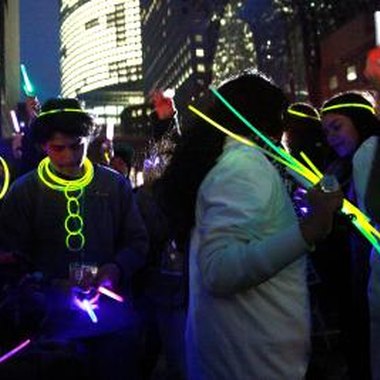 Light up your party with glowing accessories. Whether you're throwing your glow party for Halloween, a birthday or just for fun, plenty of glow supplies are available to make your party a success. From required supplies such as black lights and glow sticks to fun surprises such as glow-in-the-dark plates and cups, the key to a successful glow party is to make everything glow. Go even further than simply buying glowing decorations for your party; buy supplies you and your guests can actually use at the party, such as paint and paper.
Black Light
Every glow party needs black light for the best results. Replace all of your regular light bulbs in your lamps with black light bulbs. When the lamps are turned on, all the decorations and glow-in-the-dark supplies will create a surreal atmosphere in the room.
Decorations
Use decorations that glow under black light, such as white or glow-in-the-dark streamers. Decorate banners with glow-in-the-dark paint. A disco ball or fog machine are optional decorations. Dry ice added to a bucket of hot water also makes fog. Buy glow-in-the-dark balloons and LED candle holders for added light and decoration.
Glow-in-the-Dark Jewelry
Bracelets and necklaces are gender-neutral jewelry. Fill goodie bags full of glow-in-the-dark jewelry and hand them to your guests as they arrive, or set out bowls full of glow-in-the-dark jewelry to ensure that all guests are actively participating in the party. Buy multicolored glow sticks and hand them out to your guests as well.
Food and Drink
Make your drinks as fun as your party by serving them in glow-in-the-dark cups. Choose an array of colored cups and consider serving different colored drinks such as red fruit punch or green punch. LED light-up ice cubes punch up the color even more. As an alternative, use food-grade dry ice instead of light-up ice cubes or real ice. When dry ice is put in room-temperature drinks, fog flows off the top of the drinks. Serve food at your party on white plates or glow-in-the-dark plates. Glow-in-the-dark or white table covers give your party guests enough light to see the refreshments and also add to the theme of the party.
Highlighting Pens, Paper, Paint and Fabric
Keep plenty of neon-colored highlighting pens handy for guests. Have blank paper banners readily available for guests to write or draw on with the highlighting pens. Provide every guest with a white T-shirt to draw on with highlighting pens or glow-in-the-dark fabric paint.
Henna and Paint
As a nice surprise for your party guests, hire a henna artist to tattoo temporary glow-in-the-dark henna tattoos on your guests.
Photo Credits
Astrid Stawiarz/Getty Images Entertainment/Getty Images