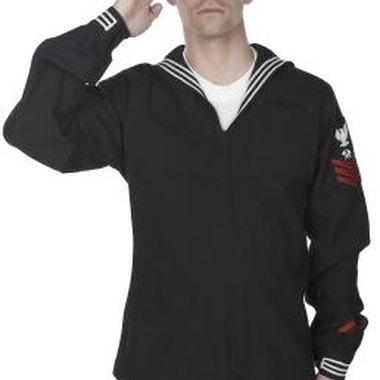 When someone you love joins the Navy, it's almost inevitable that he'll be deployed overseas at some point during his service. Even if he's not, his orders may take him far from home to train at Naval Station Great Lakes or to serve in Annapolis, San Diego or any other seaport in the United States. Send your loved one off in style with a going away party he'll always remember.
Backyard Barbecue
In the days leading up to their deployment, sailors often want to spend as much time as possible with their close friends and family. You can fulfill this wish for the sailor in your family, and do it with flair, by hosting a giant party at your house. Ask your guests to bring a favorite dish or beverage for a potluck supplement to the main barbecue meal. Some entertainment is good, but don't plan too much in the way of games or events; instead, focus most of the party on giving the sailor time to visit and chat with everyone she'll be missing once she leaves. Provide costumes for fun photo shoots. Old-fashioned Navy uniforms and sailor suits for guests to wear while the sailor is in her civvies will add to the fun. Hire a photographer or designate a friend or family member to photograph the event, and make sure to get a picture with everyone and the guest of honor throughout the day. Create a scrapbook with American flags and nautical images -- stars, compasses, ships -- that your sailor can take when she leaves.
Moveable Feast
Plan a progressive dinner by designating three houses for your sailor's send-off meal: one for appetizers, one for the main course and one for dessert. Decorate each house with a Navy theme, such as boot camp, on the base and on an aircraft carrier. Fly the American flag or the flag of the U.S. Navy outside each participating house. If many people wish to host a portion of the meal, break it up even further, with drinks and different appetizers, multiple main courses and multiple desserts. Just make sure each place is special to the guest of honor who is getting ready to embark on his military journey.
Games
Sailors who enlisted right out of high school may have been used to having the newest technology right at their fingertips, including computer and video games. Invite friends and family over to spend the day challenging your sailor to games of his choice. Keep the tone light, especially with military-themed games, so the play action doesn't turn into upsetting comparisons with the real-life dangers that may be awaiting the sailor. Hold a mock Navy training program in your yard to see if party-goers have what it takes to be a sailor like the guest of honor. Set up an obstacle course to test strength and agility, and play observation games. In military life, it's important to be able to follow orders, so finish the training session with a grown-up version of "Simon Says." Present the winners with themed prizes such as Navy mugs and key chains.
Christmas in July
Once your sailor leaves on duty, he might not return for months, maybe even years. Dress up your house and yard with decorations from each holiday or event that he's likely to miss, such as Christmas, New Year's, Easter, July 4th and a sibling's graduation or starring role in the school musical. Prepare food you would normally serve at each of the occasions and take pictures to create two scrapbooks: one for the sailor to take with him and one for you to keep at home. Include depictions of Navy ships and fighter jets in the decorations, as well globes or maps of the world. If your sailor knows where he'll be deployed throughout the year, mark those spots on the map and prepare traditional holiday food from those places.
Photo Credits
Photos.com/PhotoObjects.net/Getty Images