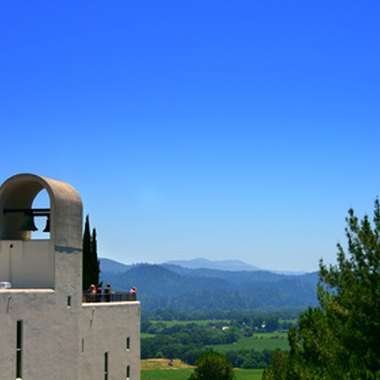 Just over an hour from San Francisco over the Golden Gate Bridge, the Napa Valley is also known as California Wine Country. About 400 wineries call this Northern California area home. The roads of the valley are lined with family-run and large corporation vineyards, but the towns of St. Helena, Napa, Calistoga and Yountville also offer a variety hotels and inns.
Harvest Inn
The Harvest Inn is actually a creatively landscaped complex of rooms, suites and cottages that span nearly 10 acres. Despite the old-fashioned setting, you won't lack such modern conveniences as a full-service spa, wine bar and two swimming pools. The complimentary breakfast is called continental but is closer to European, with an assortment of breads, cereals, yogurts and even a freshly made egg dish. Enjoy views of the mountains or vineyards from your private deck or balcony.
Westin Verasa Napa
The Westin Verasa Napa is away from the vineyards and near the city, across the street from the Napa Valley Wine Train, which provides gourmet meals on its way to the valley's wineries. The hotel works with the wine train to offer special overnight packages. The Westin Verasa has 180 rooms, most of which are suites with kitchenettes. In the lobby of this hotel is La Toque, chef Ken Frank's Michelin-starred restaurant, which was recognized by Wine Spectator as one of the best in the country.
Solage Calistoga
Solage, just a few blocks from downtown Calistoga, offers 89 modern and environmentally friendly studios and suites. The resort provides guests with bicycles in their rooms, gas fireplaces to keep you warm at night and ceiling fans to cool you each day. Don't let the restaurant fool you; it may look like just a casual poolside eatery, but Napa/Sonoma Magazine actually named it "best new restaurant" in the area when it opened in 2009. It serves California cuisine with farm-fresh ingredients.
Vintage Inn
The Vintage Inn in Yountville has 80 guest rooms with balconies and patios, some that have perfect views of the nearby Domaine Chandon vineyard. Guests are welcomed with a bottle of local wine and enjoy a champagne breakfast each morning. In the afternoon, there's coffee, tea and cookies. The Vintage Inn has a pool and hot tub. While staying at there, check out Bouchon Bistro across the street. Bouchon is part of the Thomas Keller group of restaurants, which also includes French Laundry and Ad Hoc, but this more casual eatery is less expensive.
Photo Credits
stirling vineyard, sonoma and napa valley, california image by Chee-Onn Leong from Fotolia.com