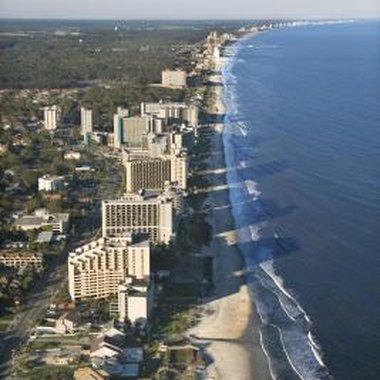 Any number of resorts in Myrtle Beach will give their guests a complimentary continental breakfast of pastries, cold cereals and beverages. For those who don't particularly want a hot breakfast, this on-the-go meal is more than sufficient. A few resorts in Myrtle Beach offer a more complete breakfast with hot cereals including grits and oatmeal, plus eggs, and sometimes bacon or sausage. If you consider breakfast the most important meal of the day, you might want to stay at a resort that offers a full breakfast free of charge.
Monterrey Bay Suites
Start your day off with a satisfying full breakfast courtesy of Monterey Bay Suites. This is an all-suites hotel that features complete, full-sized kitchens and separate living areas. Enjoy the indoor-outdoor pool at ground level or take a swim in the rooftop pool. The indoor swim area has a lazy river. The kids will appreciate the hotel's game room. While staying at Monterey Bay Suites, spend a little "me-time" at the luxurious Cinzia Spa at nearby North Beach Plantation for relaxation and rejuvenation. The spa offers fitness and well-being rituals in addition to beauty treatments and massage.
Palace Resort
The oceanfront Palace Resort provides guests a complete breakfast. Accommodations come in one- and two-bedroom condos and also studios, called sun suites. All have full kitchen and basic utensils. The outdoor pool at Palace Resort becomes an indoor pool during the chilly weather with the help of a glass enclosure. Take advantage of the steam room and sauna, and relax in the indoor-outdoor whirlpools. Enjoy breakfast in the on-site dining room and socialize in the lounge. Myrtle Beach Market Common, a shopping and dining attraction, is only 3 miles away.
Country Inn & Suites
Country Inn & Suites provides standard guestrooms and suites, including a select few suites that have private whirlpools. A heated indoor pool allows for swimming year round. Enjoy the deluxe breakfast, which includes eggs and sausage as well as fruits. For lunch and dinner, consider nearby Abuelo's for Mexican food or Red Lobster for seafood. Country Inn & Suites lies close to Broadway on the Beach, a large shopping, dining and entertainment complex. Smoking is not permitted at this hotel.
Embassy Suites
A breakfast buffet awaits guests each morning at the Embassy Suites Myrtle Beach Oceanfront Resort. All suites at the Embassy have two rooms and come with a microwave and mini refrigerator. The on-site video arcade will keep the kids busy, as will the swimming pool. The Fisheye Grill provides a casual lunch and dinner. For steaks, seafood, pasta or a combo of surf and turf, consider Omaha Steakhouse located in the hotel. Attend the nightly reception in the Nightwatch Lounge, which serves snack foods and beverages.
Photo Credits
Thinkstock/Comstock/Getty Images