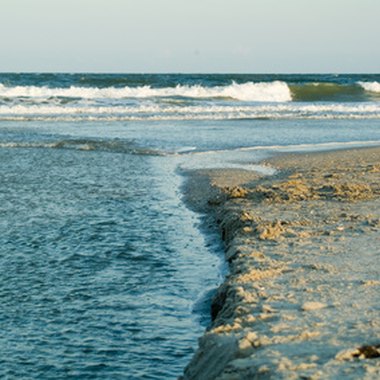 Myrtle Beach, South Carolina, once resembled a 1950s beach resort, the kind usually featured in Frankie Avalon movies. That changed in May 2010, when the Myrtle Beach Boardwalk underwent a complete renovation. National Geographic and Travel & Leisure ranked the new Myrtle Beach Boardwalk as one of the best in the country. The boardwalk renovation inspired the building of new hotels and the complete renovation of older ones.
Boardwalk Hotel
The Bayview Resort is located on the new Myrtle Beach Boardwalk and Promenade. While its location places you close to the beach, its indoor pool and hot tub make it easy to enjoy the resort in any kind of weather. Amenities include a giant outdoor checkerboard and a full-service spa offering a selection of international beauty and wellness treatments.. The Bayview contracts with 35 local golf courses and offers play-and-stay packages.
Recently Renovated
The Caribbean Resort has been around for about 40 years, but the new Cayman Tower is the resort's newest addition. During the summer months, this family-oriented condo hotel offers the Caribbean Kidz Klub for children. The new Cinzia Spa at North Beach Plantation, opened in 2009, is the latest addition to the Caribbean Resort. This cutting-edge spa offers Indian, Turkish and Italian treatments. Hotel guests can arrange to have a bath butler fill their bathrooms with candles, rose petals and signature bath products. The Caribbean Resort is located next door to the Sea Captain's House restaurant, which received the magazine Southern Living's "Best Seafood Restaurant Reader's Choice Award."
Water Park Hotel
The new Dunes Village Resort boasts an extensive indoor water park, making it an appealing choice for a family vacation. Its 30,000-square-foot facility features a 250-foot indoor river ride and an adult-sized indoor water slide. The hotel also offers stay-and-play golf packages. The Dunes Village spa offers massages and facials, and outdoor massages in beach cabanas are also available.
Distinctive Architecture
Myrtle Beach may invoke memories of 1950s beach resorts, but there's nothing retro about the Sandy Beach resort. The hotel, built in 2007, features bold white towers and glass walls, which allow the sunshine to shine through your windows. Its baths feature large, two-person spa tubs. Children play in their own, interactive pool area, complete with games and water statues. For adults, Sandy Beach offers a full-service fitness center.
Business Hotel
The Sheraton Myrtle Beach Convention Center Hotel, built in 2003, is four blocks from the waterfront. Since it is not directly near the Myrtle Beach bars and nightlife, it's a good choice for anyone who needs to get a good night's sleep and wake up for a business meeting. The hotel has an extensive business center, as well as 100,000 square feet of meeting or banquet space, and an additional 100,000 square feet of exhibit hall space in the adjacent Myrtle Beach Convention Center. The Club Level, located on the 11th floor, offers private, keyed access. Upgraded amenities include free bottled water, complimentary breakfast and afternoon hors d'oeuvres.
Photo Credits
myrtle beach south carolina ocean view image by Jorge Moro from Fotolia.com