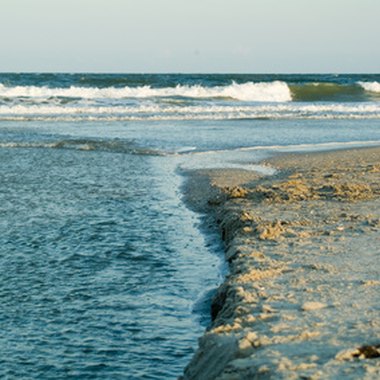 Myrtle Beach is among the foremost beach destinations in South Carolina, a place where Americans have been taking their families on beach vacations for decades. Thus, it is the sort of place where one might find the cheapest of cheap motels sharing the same zip code with some of the most expensive hotels in the state. With so many diverse hotel and motel options, travelers to Myrtle Beach need to choose their lodgings carefully.
Prices and Seasons
The Myrtle Beach area is a principally mid-range family resort destination, with a handful upscale resorts and budget motels, that sees most of its business during the summer months. The peak period, with corresponding rates, is between mid-June and Labor Day. Lodging bargains can be found throughout the rest of the year, and with usually mild weather in the autumn, winter and spring months, Myrtle Beach is a year-around destination, particularly for golfers.
Myrtle Beach Marriott Resort and Spa
This Marriott complex was rated "Exceptional" by Frommer's, which went on to describe its accommodations as the "most luxurious on the South Carolina coastline." Guest rooms are bright and smartly appointed in a contemporary fashion, but sizes vary from middling to spacious, and only some rooms have oceanfront balconies. The hotel is adjacent to the beach and situated on the 2,200-acre Grand Dunes residential and leisure community with a championship, 18-hole golf course.
Serendipity Inn
The Serendipity Inn is a Spanish-villa-inspired, reasonably priced hostelry located about 300 yards from the beach. While the location is somewhat removed from the beach, it does ensure a more peaceful setting than what is available on Myrtle Beach's main strip. The inn's guest rooms are individually decorated with old-fashioned furnishings for the most part, such as four-poster or metal-frame beds, and the few that are not feature contemporary decor. In a throwback to the 1960s, the outdoor pool sits beside a communal barbecue area.
Waikiki Village Motel
The Waikiki is a classic 1960s-style motel and a mom-and-pop operation. By any standards, the room rates are a bargain, especially since the beach is only across the street. Both daily and weekly rates are available. The rooms are simply furnished, and each has a kitchenette, while some rooms have balconies and others (Type H and F) are de facto suites. Rounding out the picture is what Fodor's described as a "friendly, helpful" staff.
Photo Credits
myrtle beach south carolina ocean view image by Jorge Moro from Fotolia.com