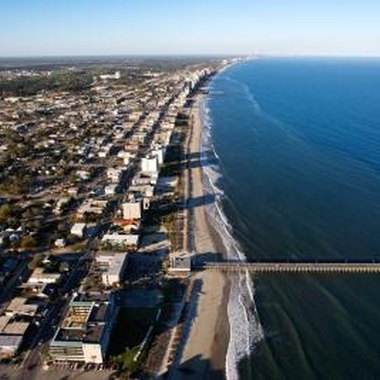 Myrtle Beach is a pet-friendly city. According to BringFido.com, most public beaches in the area allow dogs during the early morning hours or late evenings. Myrtle Beach is also home to the North-End Dog Park at Grand Strand YMCA, where dogs can run and play off-leash. If you have a different kind of pet, such as a cat or another small mammal, call the hotel in advance to ensure they can accommodate you.
Budget
Myrtle Beach has a number of hotels where rooms cost $50 or less. Many of these hotels don't have a pet fee or only charge a small fee. Budget hotels with no pet fee include the Red Roof Inn Myrtle Beach Hotel and La Quinta Inn & Suites Myrtle Beach. La Quinta has no restriction on pet size and allows up to two animals per room. The Red Roof Inn only allows one dog of up to 80 lbs. per room.
Mid-Range
The Sea Mist Resort Hotel covers 15 acres right on South Ocean Boulevard and offers rates that start well under $100, even for rooms with views of the ocean. The resort accepts dogs and cats under 100 lbs. as long as they're well-behaved and they're always leashed or under your control when in public spaces. There's a non-refundable pet fee per stay. As of 2010, the fee is $50. For even bigger savings, choose a hotel that charges no pet fee and where rooms are still under $100 -- the Sheraton Myrtle Beach Convention Center Hotel is one example.
Luxury
For ultimate luxury, try the Oceana Park Resort. A fee applies for pet stays. The hotel has different fees depending on length of stay, number of pets and number of rooms rented. Only animals under 20 lbs. are allowed at many luxury hotels.
Special Considerations
If you're having trouble locating a hotel that fits your needs and budget, look beyond the "hotel" label. Myrtle Beach has a good number of villas and condos that allow pets. Some are more expensive than hotels and offer a lot more amenities, while others allow you to secure basic accommodations with little hassle. For example, many hotels don't allow large dogs or more than one or two pets per room. If you don't meet those requirements, it might be more useful to rent a condo or a villa, since those tend to have fewer restrictions. You can also rent private houses on a weekly basis.
Photo Credits
Jupiterimages/Photos.com/Getty Images