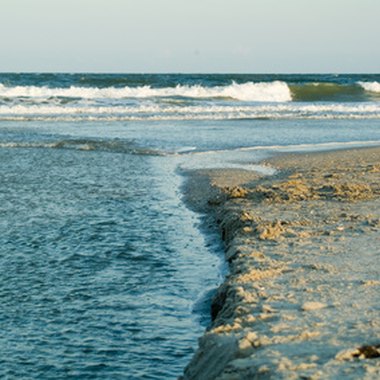 Myrtle Beach in South Carolina is home to the House of Blues, Alligator Avenue, championship golf courses and the Barefoot Resort. The original Barefoot Resort was a small shopping area known as Barefoot Landing in the 1970s. The popular tourist area boomed with business in the 1980s and became what is known today as the 2,300-acre Barefoot Resort.
Accommodations
Accommodations at the Barefoot Resort come in the form of villas and "condosuites," which range in size and location on the resort. The accommodations are on the resort property, but are a mile away from the beachfront. Select rooms have views of the Intercoastal Waterway from the balcony. Condosuites have two to three bedrooms, and villas have three bedrooms and can fit up to eight guests.
Activities
Offering at least 14 pools, including a sand-bottom pool; four world-class golf courses, a golf training center and a driving range, the Barefoot Resort offers options for those who enjoy being on water or on land. One of the more special entertainment features at the resort is the ocean Dolphin Tours where guests can see wild dolphins in the ocean, an activity offered though Barefoot Water Sports at the Barefoot Marina. Other water activities include Jet Ski rentals, parasailing and banana boat rides. The Barefoot Resorts also offers jogging trails, basketball courts, bike paths, tennis courts and more than 150 resort shops.
Amenities
Guests at the Myrtle Beach Barefoot Resort can request an in-suite washer and dryer unit, and the resort's staff cleans the rooms upon a guest's arrival. Because the resort is a mile away from the beach, guests can ride the complimentary shuttle to the beach during the summer months. Between May and September, guests at a condosuite get complimentary use of a golf cart to drive on the resort grounds.
Considerations
Those wishing to make a reservation at the Barefoot Resort must be at least 25 years old; the minimum stay is two nights during the off-season, three nights during the summer months. The resort does not allow pets in the guest accommodations, and guests cannot park trailers or motorcycles in the parking lots of the Barefoot Resort. The Barefoot Resort does not offer daily maid or housekeeping services.
Resources
Photo Credits
myrtle beach south carolina ocean view image by Jorge Moro from Fotolia.com