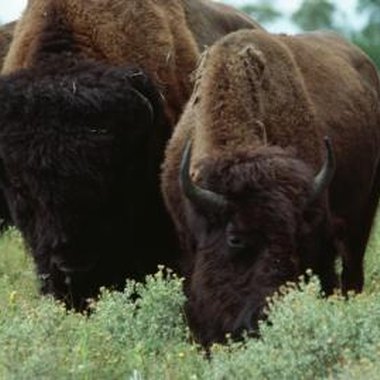 Buffalo hunting is strictly regulated and allowed only in a few states and provinces of North America. Most hunting is arranged through hunting outfitters that have managed herds of Buffalo. Muzzleloaders are a popular choice of weapon for buffalo hunting, as they can be very powerful and have a long range.
Places to Hunt
Buffalo hunting in North America is allowed in Alberta, Canada to cull public and private herds. Limited licenses are available in Utah, primarily through outfitters. Montana reintroduced public hunting, but only issues about 50 permits per year. Alaska has domestic and wild herds and grants limited permits. Several states have outfitters with private herds, such as Arizona, Wyoming and South Dakota.
When to Hunt
Buffalo hunting is one of the few large game animals that can be hunted year round. As permits are so limited, a set season is not required. This allows outfitters to offer scheduled, personal hunting parties to groups or individuals. Note that buffalo have thicker hides in the winter.
How to Hunt
Buffalo are generally hunted in a "herd hunt" or a "fair chase" hunt. Herd hunting occurs when hunters locate a herd of buffalo and shoot one out of the group. Fair chase hunting involves separating a buffalo from the herd and then stalking that animal after it has left the herd.
Using the Muzzleloader
Most buffalo hunts allow you your choice of weapon. The muzzleloader is a good choice because the load can be altered for more power. An experienced guide will help you determine the power needed for the shot to bring down a buffalo. Loose powder loads tend to be more accurate than pellet loads. You must factor in the maximum distance you want to shoot. The energy level of the bullet will decrease the farther the shot is. A typical load for buffalo is a 300-grain bullet and 130 grains of powder to take a shot of 150 yards maximum.
References
Resources
Photo Credits
Photos.com/Photos.com/Getty Images