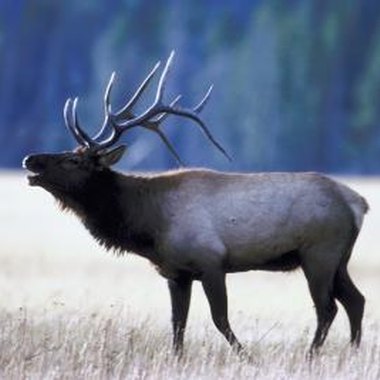 Elk numbers have increased nationwide in recent years, and that's also true in the state of Washington, which saw a growth of about 7 percent in the 25 years between 1984 and 2009. With a herd of about 60,000 animals in the state, a healthy population exists -- something hunters use to their benefit. Many elect to hunt elk with muzzleloaders, and certain regulations and restrictions govern muzzleloader hunting in Washington.
Muzzleloader Definition
The state of Washington defines a muzzleloader as a gun that is loaded from the muzzle and uses black powder or an equivalent black powder substitute. This wide definition allows hunters to use antique weapons -- like something Daniel Boone would have used -- or modern-built, inline muzzleloaders. Additionally, these weapons must be ignited by one of the following means: a wheel lock, flintlock, matchlock or percussion cap that is exposed to the elements.
Weapon Regulations
Not every muzzleloading weapon is legal for hunting elk in Washington. Elk are big targets, and it takes a lot of firepower to bring one down. Washington requires that hunters use a .45 caliber muzzleloader or larger. Also, it is illegal to shoot elk with a muzzleloading pistol or revolver, even one that contains .45 caliber or greater bullets. In keeping with the rustic spirit of the weapon, muzzleloaders may not be equipped with telescopic scopes while hunting elk in Washington.
Elk Seasons
One of the perceived advantages to hunting elk with muzzleloaders is that the season takes place prior to the start of the state's modern weapon season. For some parts of the state, the muzzleloading hunting season opens as early as August 1, and generally runs during the same time as archery season. The season for hunting with muzzleloaders closes for several weeks, but reopens for a late season in some parts of the state, running as late as December 31.
Licensing
Depending on the game management unit that the elk permit is issued for, there are different restrictions regarding what size of elk can be taken. Some management units allow for any elk to be taken, while others mandate that only antlerless elk are harvested, and still others require that only those animals with three or more antlers be taken. Because of this variance, you should always check your permit to be certain of what you can legally harvest.
Photo Credits
NA/AbleStock.com/Getty Images