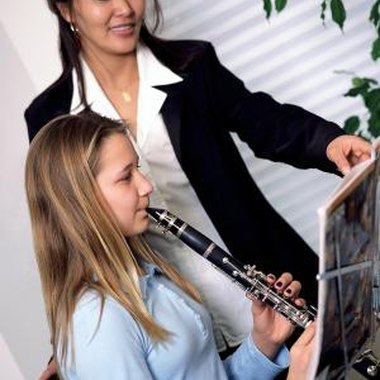 Left to their own devices, many preteens would hang around the house, watching TV and playing video games through their summer vacation. That's why as summer rolls around each year, many parents scramble to find something worthwhile for the children to do while they are out of school. If your 12-year-old has an interest in music, there are a number of music camps throughout Indiana that will provide an educational way to pass the summer.
Great Lakes Music Camps
Great Lakes Music Camps (P.O. Box 4501 Carmel, IN, 46082; 317-817-0026) are held at a different venue each year, typically at various colleges throughout the state, but all other details remain the same. This camp is for musicians between the ages of 12 and 18, and the camp is coed. Campers stay on campus for a week of extensive music training. Sessions are available for advanced band and orchestra, and intermediate band and orchestra.
Rockworks
Rockworks (rockworksmusic.com) is the summer music camp for musicians that love to rock out. The camp is held in two week-long sessions in July at Valparaiso University. The camp is a day camp at which bands work together to write two songs a piece, practicing them throughout the week. Teachers are available to teach the campers the finer points of writing and performing rock music, then at the end of the week, each band performs their songs live, on stage. Campers between the ages of 9 and 15 are welcome.
Summer Piano Academy
The Jacob's School of Music Piano Academy (music.indiana.edu/precollege/summer/piano/index.shtml) is held at the Indiana University at Bloomington campus each summer from the middle of June to the beginning of July. Students must audition in order to be accepted into the piano academy, and those accepted will take daily group classes, receive weekly coaching and two private lessons a week, study theory, and have supervised practice twice daily. Students will work on three pieces throughout the camp, then perform at the Summer Festival at the end of camp. There are also master classes, for which students may audition to attend during the first week of camp.
IU Summer Music Clinic
The Indiana Summer Music Clinic (music.indiana.edu/precollege/summer/music-clinic/index.shtml) happens in June for one week. If your 12-year-old is entering the 8th grade, he is eligible to attend the camp. Students live on campus during the week of camp, and they spend their days attending clinics and classes with professional music teachers and practicing their instrument. At the end of the week, parents are invited to attend a final concert performed by the students at the Musical Arts Center.
Photo Credits
Jupiterimages/liquidlibrary/Getty Images