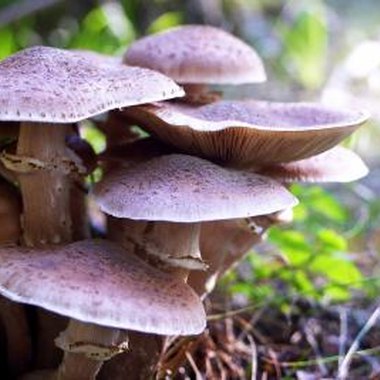 September and October bring rich pickings for mushroom hunters among the woodlands and hedgerows of Suffolk. But since the results can be either delicious or poisonous, the first rule is to know exactly what you are looking for or go with someone who does. Fortunately, several organizations run "fungus forays," where you learn to find, identify and in some cases cook different varieties.
Mushroom Facts
Mushrooms are neither plant nor animal but belong in the kingdom of fungi. Mushrooms themselves are the fruiting bodies of the mycelium, a web of thread-like structures growing underground. Mushrooms can appear overnight and may last less than a day, but in those hours may spread thousands of spores. Fungi play a vital role in nature by breaking down dead wood and other organic matter into nutrients for living plants. Many also live in a symbiotic relationship with trees, exchanging minerals and sugars between the tree roots and the fibres of the mycelium.
Equipment
You'll need two baskets: one for known species, one for doubtful ones. The baskets should be open weave to let the spores drop through onto the soil. Take a sharp knife to cut the stalks, tissues to clean the blade and a small, soft brush to clear debris off the mushrooms. Carry a long stick to poke among foliage and leaf mold. Wear waterproof boots and jacket, and take gauntlet-style gloves to protect your hands and lower arms, with disposable gloves or small plastic bags for handling fungi that may be poisonous.
Fungus Forays
You can take part in one-day courses and guided foraging expeditions in Suffolk woodlands and nature reserves. Some of these are run by local interest groups, such as the Suffolk Fungus Group (suffolkfungus.org.uk), Suffolk Wildlife Trust (suffolkwildlifetrust.org) and Fen Fungi (fenfungi.com). Rendlesham Forest Centre's program of countryside events (forestry.gov.uk/rendlesham) regularly includes October mushroom hunts. Most guided fungus forays are suitable for adults and children over 10, and (as of 2011) charges range from $10 to $40 per person. If you're hoping to learn how to cook as well as find fungi, there are one-day courses at Assington Mill (assingtonmill.com), which cover identifying, picking and cooking different types of mushrooms. As of 2011, these courses cost approximately $100 per person.
Do-It-Yourself Mushroom Hunting
If you go foraging on your own, take a field guidebook to help with identification. Thetford Forest, Brandon Country Park and Knettishall Heath Country Park are favorite locations for mushroom forays, but any patch of heath, woodland or hedgerow is likely to yield specimens. Remember to ask the landowner's permission, and don't disturb wildlife, crops or farm animals. If you're planning to take the family, look up the free information on fungi and mushroom hunting produced by Mid-Suffolk countryside rangers (midsuffolk.gov.uk) for schools and other visitors as part of their Discovery Project.
Resources
"Field Guide to Edible Mushrooms"; Peter Jordan; 2006
Photo Credits
Photos.com/Photos.com/Getty Images