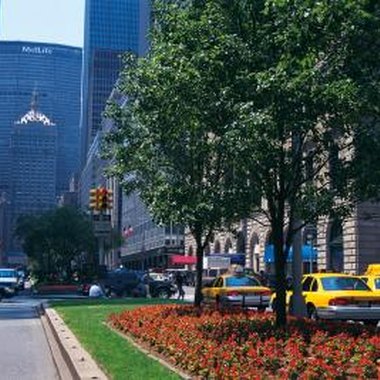 Murray Hill is a relatively quiet and mostly residential Midtown area on Manhattan's East Side. It's usually defined as the area from East 34th to East 40th streets and between Madison and Third avenues. Falling between the Empire State Building and the Chrysler Building, Murray Hill is well located for Fifth Avenue and Lexington Avenue shopping. With locations near Grand Central Station, Murray Hill hotels are also useful for making stopovers on longer tours.
Bedford Hotel
The Bedford Hotel is a good Midtown standby for business and leisure travelers on a moderate budget. Comfortable rooms with traditional or contemporary furniture were available for well under $200 per night in 2010. The hotel has 135 studio rooms and suites of a generous size for the middle of Manhattan. Most have either fully equipped kitchenettes or microwave, fridge and coffee maker combinations. Domenico's, an unpretentious neighborhood Italian restaurant, is on the hotel's first floor.
The St. Giles Hotels
The St. Giles Hotels are a pair of hotels under the same ownership a few doors apart on East 39th Street. The St. Giles Court Hotel and the St. Giles Tuscany Hotel are both decorated in a contemporary boutique hotel style and share some facilities. Business meeting rooms are located in The Court and the hotels' shared business center is in The Tuscany. Rooms cost between $250 and $380 in 2010, with seasonal and weekly variations. The St. Giles Hotels have no restaurant but both have small bars. The Tuscany also has a fitness center.
70 park avenue hotel
This Kimpton Hotel is one of only a few New York hotels with a Park Avenue address. The luxury boutique hotel's rooms are decorated in a style described as "American Classicism" by designer Jeffrey Bilhuber, who has also designed homes for David Bowie and Iman, Anna Wintour and Hubert de Givenchy. The hotel has 205 guest rooms including 70 interconnecting rooms suitable for family travel. Among the Kimpton group trademark services offered at this hotel are in-room spa treatments with eco-friendly products.
Kitano
You can't get much more "Murray Hill" than the former Murray Hill Hotel, built in the 19th century and once owned by the Rockefeller family. Bought by the Japanese-owned Kitano group in 1973, it became the first Japanese hotel in New York. The hotel has 149 guest rooms including 18 suites, each individually decorated. Although rooms are decorated in a contemporary American style, the Kitano also has Manhattan's only real Japanese Tatami suite. The hotel also has a highly rated Japanese restaurant, Hakubai, serving Kaiseki cuisine, described by the New York Times as "rarified and excellent." The prices are relatively rarified as well, with dinner for one in 2010 starting at nearly $100.
Photo Credits
Comstock/Comstock/Getty Images