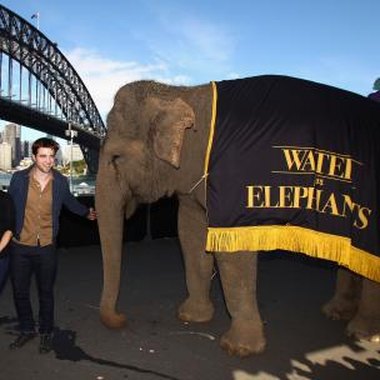 "Water for Elephants" is a 2011 romantic drama starring Academy Award-winner Reese Witherspoon and Robert Pattinson (best known for his portrayal of Edward Cullen in the "Twilight" series). Based on Sara Gruen's 2006 historical novel by the same name, "Water for Elephants" follows the journey of Jacob Jankowski when he joins the circus and falls in love with his employer's wife.
Point of View
The main character, Jacob Jankowski, is played by both Hal Holbrook and Robert Pattinson. When the movie starts, the elderly Jankowski (Holbrook) attempts to go see the local circus. When he arrives, the circus is over, but he encounters a circus employee who is intrigued with Jankowski once he learns that in his youth he worked for the now-defunct Benzini Circus. Through Holbrook's character the viewer is introduced to Jankowski's circus days and the aftermath of his adventure.
Plot
Robert Pattinson plays the younger Jankowski. When the viewer first meets Jankowski he is a 23-year old veterinary student at Cornell University. Jankowski's studies, and bright future, are interrupted when his parents are killed in a car accident, forcing him to leave school to support himself. As the Great Depression has hit, employment opportunities are slim, prompting Jankowski to become a stowaway on the Benzini Brothers Circus train. After almost being thrown off the train, Jankowski begins to earn his keep mainly by using his veterinary knowledge to aid with the training and care of the circus' main attractions.
Climax
Almost immediately, Jankowski is taken with Marlena Rosenbluth (Reese Witherspoon), who not only is a performer in circus, but also is married to the owner of the circus, August Rosenbluth (Christoph Waltz). Jacob and Marlena bond over their love of animals, especially in light of August's cruelty towards them, and enjoy an undeniable chemistry. Over time August realizes the nature of the attraction between his wife and his employee and he orders Jacob to be thrown off the train (literally). Jacob and Marlena attempt an ill-fated escape together which leads an epic scene in which the viewer learns why the Benzini Circus is no longer.
Controversy
"Water for Elephants" was a commercial success given its production budget of $38 million and it gross worldwide revenue of $112 million as of mid-June 2011. The film came under fire when several media outlets reported that the elephant that starred in the film suffered mistreatment and abuse in footage shot by Animal Defenders International. The video footage, however, was shot in 2005 -- five years before production of "Water for Elephants" began.
Resources
Photo Credits
Ryan Pierse/Getty Images Entertainment/Getty Images