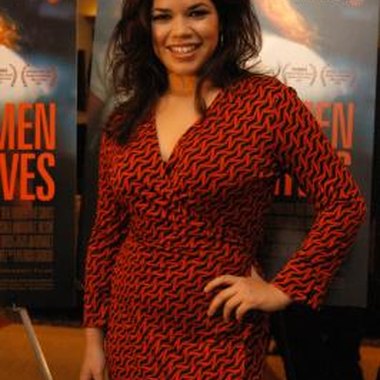 "Real Women Have Curves" is the 2002 coming-of-age dramedy starring "Ugly Betty" star America Ferrera. Director Patricia Cardoso tells the tale of how responsibility to the family and personal ambition meet in culturally diverse East Los Angeles when one teenager manages to juggle the ambition for college and the demands of an overbearing mother.
Protagonist
Ana Garcia (America Ferrera) wants to go to college, and for this first-generation Mexican-American, that is a big deal. Her teacher Mr. Guzman (George Lopez) helps get her a full scholarship to Columbia University, which would take Ana from her working-class upbringing in East L.A. and allow her to be the first person in her family to pursue a college education.
Antagonist
Ana's mother, Carmen (Lupe Ontiveros), has other ideas for her daughter, which include more culturally traditional pursuits such as marriage and taking care of her family. She disdains her daughter's fuller figure and makes it a point to make that criticism loud and clear; in Carmen's mind, Ana's weight clearly undermines any real marriage opportunities. She attempts to browbeat Ana as she has done her older daughter, Estela (Ingrid Oliu), by using guilt and manipulation to keep Ana under her thumb.
Theme: Obligation
Though Ana struggles with the choice of pursuing her future or helping her family, her sister's crisis at her dress shop forces Ana's hand to help out with the family business over the summer. It is there she earns a respect for her sister while standing up to her mother -- for herself and on behalf of the women who work there. She finds the undesirable conditions and low wages unacceptable and encourages the women to stand up for themselves and their own self-worth.
Theme: Self-Awareness
"Real Women Have Curves" sets out to juggle these two conflicting themes with rich characterization. Ana matches Carmen in determination and verve, and she secretly still aspires to move away from her family in order to find her own place in a society that gives her the opportunity to reach beyond traditions and convention. How Ana sees other women through this journey helps her decide what is best for her -- and the woman she wants to be.
Photo Credits
Kevin Stuart/Getty Images Entertainment/Getty Images