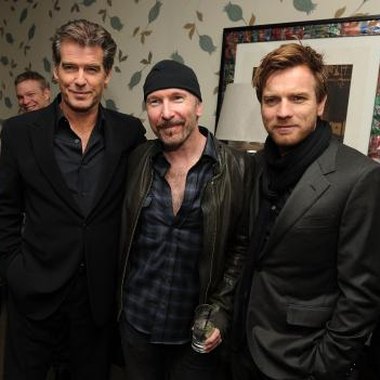 "The Ghost Writer" is a 2010 movie directed by Roman Polanski and starring Pierce Brosnan. Adapted from Robert Harris' novel "The Ghost," "The Ghost Writter" is a fictional political thriller about a writer hired to write the memoir of the former prime minister of the United Kingdom. The movie also stars Ewan McGregor ("Trainspotting") and Kim Cattrall ("Sex and the City").
Summary
McGregor plays a run-of the mill writer hired to review and finish the memoirs of former prime minister Adam Lang, played by Pierce Brosnan. McGregor's character, who remains unnamed throughout the movie, travels to Lang's home in Old Haven, a quaint oceanside town. When he arrives, Lang's world is being turned upside down, as he has been accused of international war crimes for allowing terrorist to be illegally turned over to the United States for questioning, and possibly, torture. He also learns learns that Lang's previous ghost writer died in a mysterious accident. As McGregor's character delves into Lang's unfinished memoir, clues reveal that Lang might have a shady past -- he might have been a CIA operative, which Lang denies. Meanwhile, McGregor's character has a brief affair with Lang's wife, complicating matters.
Climax (Spoilers)
After receiving several clues guiding him to look at the beginning pages of the unfinished memoir, McGregor's character finally connects the dots, realizing that Lang's wife is the CIA operative, and that she has completely influenced his political decisions. By now Lang is dead, having been shot by a grieving parent who lost a child in war under his tenure. Attending the book launch with the original manuscript in hand, McGregor's character passes a note to Lang's wife indicating that he knows the truth. However, admitting to this knowledge seals his fate.
Success
"The Ghost Writer" was a modest commercial success, given that the film's budget was $35 million and it gross worldwide revenue exceeds $ 73 million. Respected movie critic Roger Ebert gave the film four stars, praising Polanski's ability to direct a thriller. In particular, Ebert liked that the film built suspense gradually, rather than relying on shock value.
Post-Production
Postproduction was hindered when Polanski was arrested in Switzerland in 2009 on charges stemming from his sex crime conviction involving a 13-year-old girl in 1978 at Jack Nicholson's home. He finished the movie while under house arrest, but he missed its world premiere at the Berlin Film Festival.
Photo Credits
Stephen Lovekin/Getty Images Entertainment/Getty Images