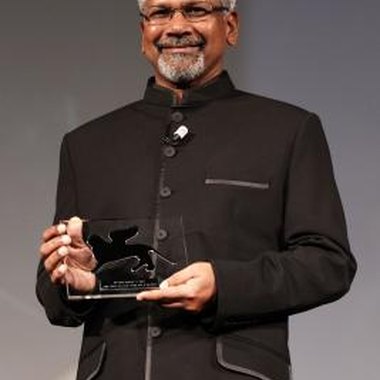 "Dil Se" (1998) is the final movie in Mani Ratnam's loose trilogy of films concerning terrorism in India. The preceding films, "Roja" and "Bombay," were spoken in Tamil, but "Dil Se" is primarily in Hindi. "Dil Se" was something of a box office disappointment in India but a hit overseas, one of the biggest Indian-produced films on the international market.
Meeting Meghna
Amarkanth Varma (played by star Shah Rukh Khan) is a radio producer at a nationally carried radio station. He is sent to northeast India to gather material for a story on the country's celebration of 50 years of independence. He finds and interviews the head of a terrorist organization whose goals are to achieve independence of the region from India. Afterward, he finds himself inexplicably drawn to a local woman, Meghna (played by Manisha Koirala).
Obsession Grows
Varma cannot get Meghna out of his mind, and he meets her again days later. She feigns ignorance at their earlier meeting but Varma cannot be easily dissuaded. He opens his heart to her, but she informs him that it can come to nothing because she is married. He finds her one more time, but two strange men apprehend him and beat him up as a warning.
Desert Romance
After learning that Meghna is not actually married, Varma decides to follow her to the far northern Indian region of Ladakh. He is unable to track her down and decides to head back to his home in Delhi on a bus. Surprisingly, Meghna is on the same bus, and after the bus breaks down they walk together through the desert as she begins to fall for him.
Delhi: Spoilers
After returning to Delhi, Varma finds that his family has arranged a marriage with the westernized Preeti Nair. Unenthusiastic, but unable to discover Meghna's whereabouts, he agrees to the engagement. However, Meghna arrives at his home and asks whether she can temporarily stay with him. Varma discovers that Meghna is a member of the northeast terrorist group, sent to detonate a suicide bomb during the national independence festivities. His love for her is so strong that he continues to pursue her, defying the terrorists who savagely beat him to thwart his passion. As she is about to commit her terrorist act, he asks her to love him or to kill them both. She chooses the latter, and both die in the explosion.
References
Photo Credits
Andreas Rentz/Getty Images Entertainment/Getty Images