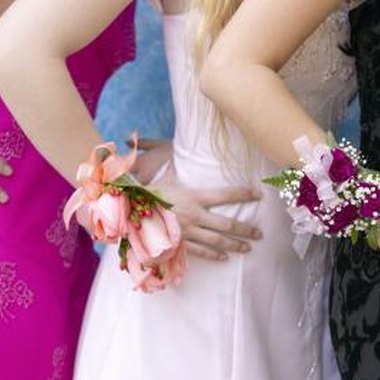 Following up the success of its "High School Musical" movies, Disney returned to high school for the 2011 theatrical feature, "Prom." The story follows the ups and downs of several students as their high school prom approaches and they contend, not just with the pressure of finding a date for the dance, but with myriad other challenges, including disapproving parents, conflicting relationships, jealousy, college plans and more. The movie opened in April 2011, just in time for prom season.
Main Characters
"Prom" features an ensemble cast, but its main characters include senior class president Nova Prescott and "bad boy" Jesse Richter. Nova's friends include Mei, Ali, Brandon and Rolo. Other characters include the quarreling couple Tyler and Jordan, and Mei's boyfriend Justin. Sophomores Lucas, Corey and Simone are also featured, as well as Lloyd, who feels "invisible" at his own school.
Plot
The story of "Prom" actually follows several intertwining story lines, but at the heart of the movie is the relationship between Nova and Jesse, who in traditional romantic comedy/drama fashion, dislike each other when they first meet. They are forced to work together after all the decorations Nova and her friends make for prom are lost when a school storage shed burns to the ground. The fire was started after Tyler had lit several candles there when he asked Jordan to prom. One candle was left burning. When Nova's friends all back out of helping her scramble to remake all the decorations, the school principal requires that Jesse help. He had been in trouble lately and was in danger of not graduating. The two eventually find themselves attracted to each other, but after Nova's father steps in and forbids Jesse from dating his daughter, things look hopeless -- at least until the end. Various other characters find romance, disappointment and understanding along the way to prom night.
Cast
The cast of "Prom" includes many young actors and actresses who were familiar on television. Nova is played by Aimee Teegarden, who was a featured performer in the TV series "Friday Night Lights." Simone is played by Danielle Campbell, who was on several episodes of TV's "Prison Break." Nicholas Braun, who played Lloyd, had a recurring role in the TV series "10 Things I Hate About You," and was also one of the main characters in another Disney high school movie, the 2005 hit "Sky High." Jesse was played by Thomas McDonnell, who had just a few parts, including a small role in the Jet Li/Jackie Chan movie "The Forbidden Kingdom," before landing his part in "Prom."
Soundtrack
The soundtrack of "Prom" includes both up-tempo pop songs and romantic ballads to underscore the fun and comedy, as well as the romantic drama of the film. Among the songs featured are "Your Surrender," by Neon Trees and "I'll Be Yours," by the Swedish girl group Those Dancing Days. The song, "We'll Be Alright," by Travie McCoy was also featured in the 2010 kids' comedy, "Yogi Bear."
Photo Credits
Digital Vision./Photodisc/Getty Images