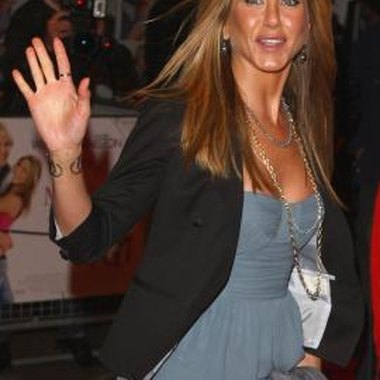 "Marley and Me" is a lighthearted movie about a couple who buys a dog, expecting to bring the dog into their home, train him and live forever in harmony. After buying and naming the dog, the couple quickly discovers that the dog intends to bring everything except harmony into the home. This article includes movie spoilers while discussing the elements of plot.
Fulfilling Needs - The Exposition of the Plot
John buys Marley, an overactive Labrador retriever, as a gift for Jenny in an effort to stall Jenny's obsession with having a baby. The plan works, especially when the couple realizes the extent of Marley's rambunctious tendencies. Dealing with one little puppy becomes a full-time job.
Raising a Puppy
Marley quickly proves to be hyperactive and uncontrollable. He is impulsive and has little self-control. He eats jewelry, knocks holes in walls and fills John and Jenny's days with insanity. The rising action in the movie includes Marley's crazy antics and a short stint with a dog sitter which drives the sitter out of the house, never to return.
Creating a Career From a Job
John gains a news column with the paper where he previously wrote small paragraphs and two-word synopses. He struggles to fill the column until he realizes he has had a great story the whole time - Marley's antics. The Marley columns increase circulation for the paper, and John is offered a better job in Philadelphia. Marley helps boost John's lackadaisical job into a writing career where he receives notoriety, credentials, Marley fans and letters from across the country discussing crazy doggie mishaps.
What Marley Brings
During the falling action and conclusion of the movie, the family, which now includes two boys and a girl, moves to a farm in rural Pennsylvania. Marley enjoys running and exploring in his new environment and the family lives out Marley's final days in peace and harmony. The family buries their beloved hurricane canine underneath his favorite pine tree.
Photo Credits
Gareth Cattermole/Getty Images Entertainment/Getty Images