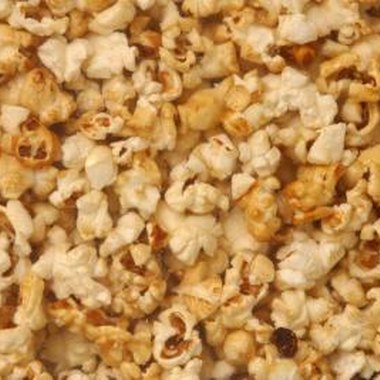 Whether you are hosting a birthday party for children or just having a night in with friends, a movie-themed party is sure to be a hit. Since the entertainment portion of the evening will consist of a movie, you can focus most of your energy on decorating your home to fit the theme. The decorations don't need to be expensive to be festive, they just need to seem authentic, so you can decorate on a budget.
Red Carpet
If you or someone you know has a red runner, you can lay it by your front door. This way, as guests walk in, they will be walking along a red carpet like actors and actresses do when they enter a movie premiere or other special event. You could also take a picture of guests standing on the red carpet as they enter your home. If you do not have a red carpet, you can purchase an inexpensive one from a party supply store or make one yourself by dying an old white runner or sewing one out of fabric or felt.
Concession Stand
Cover a table with a black tablecloth and scatter movie-themed confetti -- such as stars, popcorn and movie reels -- all over. Cover the table with personal-sized paper bags filled with popcorn, candy bars, packets of candy and boxes of chocolates. You can also purchase disposable cups with lids and straws and fill them with soda, or fill a bucket with ice and cans of coke. Since the concession stand is a focal point at a movie theater, it should be a focal point at your movie-themed party as well.
Movie Posters
Another common sight at a movie theatre is large movie posters. While many party supply stores and movie rental locations sell movie posters, you can often purchase them at a bargain shop or discount department store for much less. If you have many posters, hang them all over your party space. If you only have a few, focus them in one area, such as on the wall behind the concession stand or in the hallway of your entrance way.
Popcorn Garland
Popcorn garland is commonly made at Christmas time to wrap around a Christmas tree, but it can also be used as a substitute for streamers at a movie-themed party. Thread a piece of fishing wire through a sewing needle, then poke the needle through the popcorn, one piece at a time. Continue making strings of popcorn garland until you have enough to decorate your house with. You can string them along windows, hang them from doorways, drape them on the ceiling, and wrap them around lamp posts and other tall, slender objects.
References
Photo Credits
Hemera Technologies/AbleStock.com/Getty Images