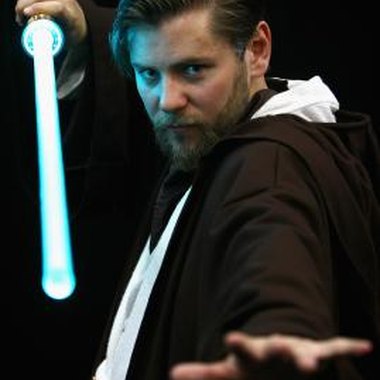 A great way to break the ice at a party is to base the festivities on a theme. Movies have an almost universal appeal and offer a wide variety of masquerade possibilities. Your guests can enjoy being their favorite star or character for the duration of the party. Add to the fun by choosing decorations and games that match your movie theme.
Possible Themes
Movies and Hollywood in general can make for a great theme, or you can choose a specific movie or genre. "Pirates of the Caribbean" will allow your guests to let loose their inner rogues. If you run with the geek crowd, consider science fiction or fantasy movies such as "Star Wars" and "Lord of the Rings." A gangster movie theme will allow your guests to masquerade as notable outlaws such as Bonnie Parker, Al Capone and Tony Montana. If you and your friends prefer to glam it up, consider hosting an Oscar party. Guests can dress up in formal attire as their favorite nominees and have their acceptance speeches ready.
Food
Concession stand food is easy to prepare and guests can enjoy the nostalgic feelings these items can evoke. Place big tubs of popcorn around the room, along with bowls filled with candy such as Milk Duds and Whoppers. Have a hot dog or nachos bar where guests can make their own meals with all the dressings. Offer soft drinks with ice and straws. If you're hosting a more formal, award show party, consider serving fancy finger food such as sushi and brie with crackers, and have glasses of champagne or sparkling cider to toast the winners.
Decorations
Decorate the walls with movie posters, which you can purchase from memorabilia stores online or download and print. You can also ask local movie theaters if they have old posters to sell or give away. Look for party stores that offer Hollywood or movie themed decorations and servingware. For science fiction and super hero themed parties, a good bet is to look in the children's section of the store. Other decorations include strings of star-shaped lights, movie marquee banners and theme balloons. You can also roll out the red carpet, literally. Inexpensive carpets are available for your front walkway, allowing your guests to make their grand entrances. Have a couple of guests masquerade as security guards to keep back the paparazzi.
Games
To keep your guests in the spirit of the party, make it a rule that everyone must be addressed by their character or star name. Hand out stickers. When someone slips up, they get a sticker. At the end of the party or a set amount of time, the person with the fewest stickers wins. Another good ice breaker is "Who Am I?" Tape a piece of paper with the name of a star to each guest's back. Don't allow them to see the paper. They must then go around the room and ask each other yes or no questions about who they are. Only one question per person--though if they've asked everyone a question and still haven't guessed the star's name, they can go around again. The first person to guess correctly wins. You can also put a movie spin on games such as charades, hangman and trivia. For prizes, give out packets of microwave popcorn, boxes of candy, gossip magazines, DVDs and gift certificates to the local movie theater.
Photo Credits
Chris Jackson/Getty Images Entertainment/Getty Images