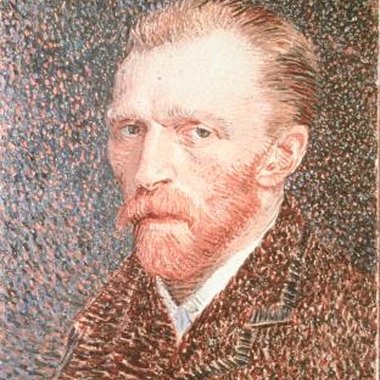 "Lust for Life" chronicles the life of renowned artist Vincent Van Gogh. It takes viewers on a journey through Van Gogh's two failed romances, a number of jobs (including a pastorate from which he was dismissed for over-zealousness) and his art. The father of the expressionist style has been imitated by many artists and enjoyed by generations of art enthusiasts. You can get a glimpse Van Gogh's life and the art it inspired by watching the 1956 film "Lust for Life."
Early Life
"Lust for Life" is set in Holland in the late 1880s. It begins with Van Gogh training to become an evangelical pastor. He is assigned to serve the poor coal-mining region of Borinage in Belgium. Van Gogh wants to be useful to his church and congregation, so he donates everything he owns to live in poverty among them. For this, he is fired from his post and sent out of the ministry. Van Gogh falls into a depression in Borinage, and his brother Theo brings him home to Holland. Van Gogh takes up painting, which lifts his spirits.
Romance
While at home, Van Gogh falls in love with his widowed cousin Kay, who rejects him when he expresses his feelings for her. Lonely and desperate, Van Gogh becomes involved with a prostitute named Christine. Christine provides creative inspiration for Van Gogh, who paints feverishly while they are together. Van Gogh slips into a deep depression upon learning of his father's death, at which time Christine also decides to leave him. Van Gogh eventually moves to Paris to live with his brother Theo, where he meets rival artist Paul Gauguin.
Suicide
The movie explores the stormy relationship between Van Gogh and Gauguin, which ends in the infamous event of Van Gogh cutting off his ear after a fight causes Gauguin to abandon him. While Van Gogh narrowly survives death from blood loss, he commits himself to a mental institution in Saint-Remy-de-Provence and has epileptic seizures. Eventually, Van Gogh is released from the mental institution and moves to Auvers-sur-Oise, where his painting improves, but his spirits do not. The movie ends with Van Gogh shooting himself in the chest out of despair while painting a scene of crows in a field. He dies two days later, at the age of 37, with his brother Theo by his side. "Lust for Life" explores the exuberance and despair that characterized Van Gogh's paintings and eventually led him to believe that he would never be able to capture the beauty he envisioned in his mind on the canvas.
Other Information
"Lust for Life" was made 1956 by Metro-Goldwyn-Mayer (MGM). Van Gogh is played by Kirk Douglas, while his brother Theo is played by James Donald. Anthony Quinn plays Van Gogh's rival artist, Paul Gauguin. The movie was directed by Vincente Minnelli and unaccredited co-director George Cukor. Although the movie is a fictionalized account based on a novel by Irving Stone, it has its foundation in three volumes of letters that Van Gogh drafted to his brother, Theo. In those letters, Van Gogh revealed himself to be a violent, passionate man drawn to extremism that both drained his life and empowered his art. Filmmakers drew on the letters to portray Van Gogh's life in a realistic manner. They shot the film at many locations in Europe where Van Gogh lived and painted. The movie crew recreated many of Van Gogh's paintings and interspersed them with images of nearly 200 of Van Gogh's original paintings to make the movie as realistic as possible.
Photo Credits
Jupiterimages/Photos.com/Getty Images