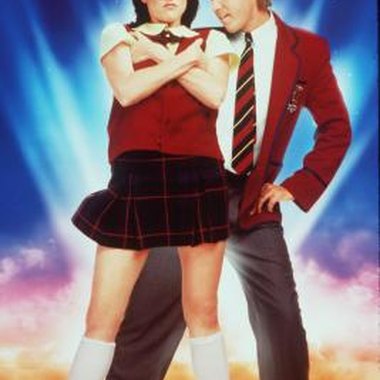 Many people dream of one day becoming a superstar. Some want the money; others want the fame, but for Mary Katherine Gallagher in the 1999 comedy film "Superstar," living the dream means one thing: getting kissed -- not a sloppy make-out session kiss either, but a real, passionate, life-changing kiss. Can the girl who sticks her hands into her armpits and smells them when she gets nervous live her dream? Watch the movie and find out.
Plot
"Superstar" is the big screen version of one of Molly Shannon's signature "Saturday Night Live" sketches about Mary Katherine Gallagher. The movie follows Mary on her quest to get her first kiss -- and not from just anyone but from her dream boy Sky Corrigan -- and not just any kiss but a magical, life-changing kiss like in the movies. She figures the best way to get a movie kiss is to be a movie star, so she spends the rest of the movie trying to become one in spite of being nerdy, ugly and unable to act.
Reviews
"Superstar" received generally negative reviews from critics. Common complaints focused on the perceived lack of depth in plot, lack of likability in characters and that it felt more like an overlong sketch than a movie. As Robert Ebert wrote, "Here is a portrait of a character so sad and hapless, so hard to like, so impossible to empathize with, that watching it feels like an act of unkindness." Some, like Sandra Ramani of Citysearch liked it, calling it "quirky, funny, very often bizarre and surprisingly enjoyable."
Box Office
"Superstar" was made on a $34 million dollar budget that it never recouped, earning back only $30,636,478 domestically. It was a commercial disappointment from its opening weekend; it debuted on October 8, 1999, as the fifth most popular movie and earned $8,912,743, 21 percent of its total gross, in 1,943 theaters.
Other
Besides Molly Shannon, "Superstar" starred Will Farrell as Sky Corrigan, Elaine Hendrix as Evian Graham, Harland Williams as Eric Slater, Mark McKinney as Father Ritley and Glynis Johns as Grandma. It marked the major directorial debut by "Kids in the Hall" veteran Bruce McCulloch and was written by Steve Koren, who also wrote the "SNL" spinoff "A Night at the Roxbury." It was released by Paramount, rated PG-13 and came to DVD on April 11, 2000.
Photo Credits
Getty Images/Getty Images Entertainment/Getty Images