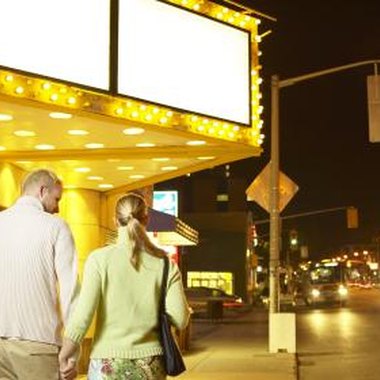 Movie gift cards are specialized cards good as either cash or in exchange for a movie ticket at select theaters. The gift cards are specific to individual theaters such as Loews, AMC, Regal and others and typically do not expire.
Expiration Dates
No movie gift cards or gift certificates have expiration dates, nor are there any fees associated with them, at the time of publication. AMC and Regal Entertainment, the two largest movie theater chains in the United States, both produce gift cards that have no expiration date. Smaller, individually operated theaters may have varying policies.
Gift Cards
Gift cards are redeemable for both movie tickets and concessions. Cards can be reloaded in the case of AMC Theaters, which also owns Loews Cineplexes to work as a debit card for the individual theater. Personalize the gift cards from the two large chains to include a message on the back as well as a customized graphic.
Gift Certificates
Gift certificates are typically used only for movie tickets. One certificate is usually good redeemable for one ticket. AMC offers the Gold Experience ticket, purchasable in packs and redeemable for the same number of movie tickets at the box office. Gift certificates are similar to gift cards in that they have no expiration date.
Purchasing Options
Both gift certificates and gift cards can be purchased directly from the box office of your favorite theater or typically on their web site. Fandango, an online movie ticket vendor, has their own version of gift cards/certificates known as Fandango Bucks. Fandango Bucks have no expiration date and are only redeemable for advance ticket purchases on Fandango.com. Fandango will send buyers a receipt via email they can use to pick up the respective tickets at the box office.
Resources
Photo Credits
Hemera Technologies/AbleStock.com/Getty Images