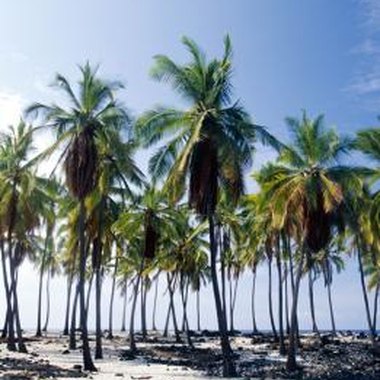 After directing a long string of popular-but-schlocky "Little House on the Prairie" episodes, David L. Cunningham tried to harden his image in 1998 by writing and directing "Beyond Paradise." It is Cunningham's semiautobiographical tale of a man who moves to Hawaii, and his adjustment to a lush island state still seething with class and race resentment toward white people.
The Move
Many dramatic movies -- good and bad -- start with a move to uncharted waters. In "Beyond Paradise," those waters are sun-dipped and iconic. The lead character is Mark Thompson, played by long-haired and beach-ready Roy Newton. Thompson moves from California to Hawaii with his mother, becoming an outsider in a surreally foreign place.
Cast
Besides the lead, "Beyond Paradise" explores the lives of several characters meant to represent a cross-section of Hawaiian native life. The small band of locals Mark slowly befriends, as well as the girl he courts, Lehua, all have families, jobs and inherent resentments toward white people -- perhaps one that's drawn as a caricature. None of the actors who played any of these roles has gone on to prominence, except for Lorenzo Callender, who's had roles in several TV series and has played a background soldier in "The Hulk" and "Terminator Salvation."
Conflict
Mark is taunted after arriving at his new school, mainly because of broad resentment of the "whitening" of Hawaiian neighborhoods. His friendships with Zulu, Keao and Ronnie Boy, not to mention liaisons with Lehua, help him resist the local temptations of violence and drugs and to eventually adjust to life in the minority. The movie attempts to show the inherent conflict that exists between the scenic postcard version of Hawaii and its seedy, seething underbelly.
Extras
"Beyond Paradise" was reportedly embraced by Hawaiian audiences, and it was warmly received at its Honolulu International Film Festival debut in 1997. It also was among the lineup at the AFI Film Festival in Los Angeles, but after that it suffered from lackluster reviews. A DVD version of "Beyond Paradise" was released in 2003, without standard commentary or featurette.
Photo Credits
Brand X Pictures/Brand X Pictures/Getty Images