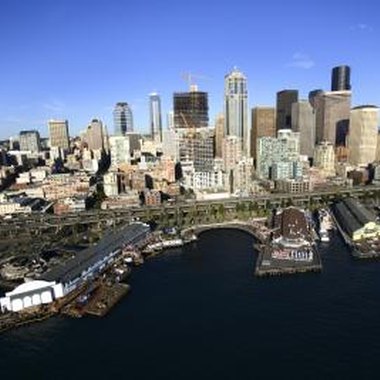 Home to over half a million residents, Seattle is a sophisticated urban center in the Pacific Northwest. The city rests on land between Puget Sound to the west and Lake Washington to the east. The rugged Cascade Range lies a short drive inland. Thanks to Seattle's well-designed web portal, moving to Seattle and setting up utility service presents no difficulties. Most of the process can be handled online.
Step

1
Set a date for the move. Hire a moving company to pack your furniture and belongings and load them into the moving truck. Keep bare necessities, like toiletries and your checkbook, close at hand. Keeps phones, chargers, keys and other vital small items together in a safe container.
Step

2
Unload and unpack at your new residence. Read both your electric and water meters. These numbers will be important for establishing service and calculating your first month's bill.
Step

3
Print the service activation form on the Seattle City Lights sub-page of seattle.gov. You can either mail or fax the completed form to the main office, or drop it off in person if you're in the area. The same procedure can be handled over the phone, as long as you can see your electric meter and provide the current reading.
Step

4
Complete the online form to activate water, sewer and garbage pick-up accounts. You will need the water meter reading at this point. Determine if the the trash receptacle at your location is suitable for your needs. New customers will be required to provide proof of identity in person at the main office.
Step

5
Set up billing according to your preferences. Seattle offers online payment, recurring automatic payment and traditional mail delivery. Payment can be dropped off at one of several locations.
Tips & Warnings
Call (206)684-3000 with any questions regarding utility service in Seattle. The city's webpage also has a section for frequently asked questions which may be of assistance.

If you're not comfortable taking a meter reading, a public utilities worker can visit your home and take the reading for a fee. Seattle City Lights and Public Utilities requires at least three days notice for this service.

If you or someone in your home relies on powered medical equipment, Seattle City Lights will gladly accommodate your special needs. This includes notification of planned outages and more leniency on bill tardiness.
Resources
Photo Credits
Thinkstock/Comstock/Getty Images