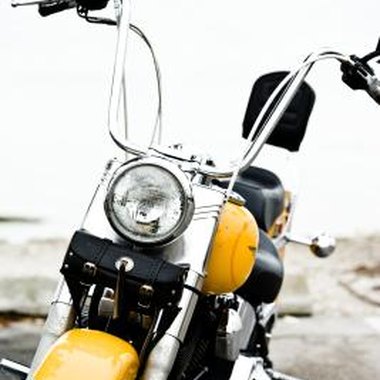 Huntsville, Alabama has a little bit of everything for the motorcycle enthusiast. From long bike rides that commemorate a piece of American history to huge exhibits featuring the newest styles and brands of motorcycles, Huntsville -- locally referred to as Rocket City -- has events throughout the year.
Ruff Ryders
This annual June event began in 2006 and brands itself as the "Bama on Fire" tour. Car and motorcycle events are planned throughout an entire weekend in June, including a meet and greet, hood ride, picnic, a car and bike show and a "best dressed" competition. Other Ruff Ryder events vary by year. Call (256) 457-1099 for more information.
Great Chicken Rally in Rocket City
The Great Chicken Rally has been held in Huntsville, Alabama since 1988. The BMW Motorcycle Owners of Alabama organization sponsors the event, which draws hundreds of bikers annually. Attendants camp for three nights and share a pancake breakfast every morning. Other events include concerts, barbecues, seminars and a classic bike show. Groups take off all throughout the day to places like the Jack Daniels Distillery, Cathedral Caverns and the U.S. Space and Rocket Center. Call 205-663-5376 for more information.
The Trail of Tears Remembrance Ride
The Trail of Tears Remembrance Ride takes place every 3rd Saturday of September, a tradition that began in 1994. As the name implies, the ride is designed to bring awareness to the experience of Native Americans who, in 1838, were forced to leave their homes. The ride begins in Chattanooga, Tennessee, and ends in Florence, Alabama, 70 miles west of Huntsville. There are no fees required to participate in this event. Around 150,000 motorcyclists join the ride annually. Hang around for a while after the ride and enjoy a Native American festival, storytellers, dancers, crafters and more. Visit Trailoftears-remembrance.org for more information.
Ride South Powersports Expo
The Ride South Powersports Expo takes place in April of each year at the Von Braun Center. The show features live music, custom bikes, stunt show competitions and a tattoo showcase. The stunt performance area is 3,000 square feet, while 54,000 additional square feet will be filled with the latest motorcycle models, accessories and other bike-related businesses. Visit Ridesouthmcexpo.com for more information.
Photo Credits
Jupiterimages/Photos.com/Getty Images