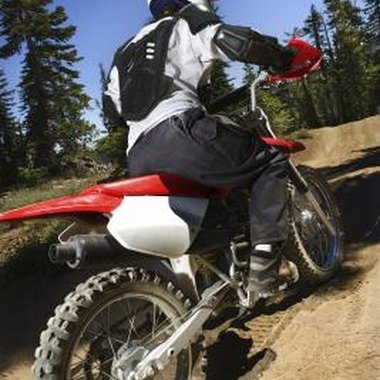 If you are looking for an outdoor Texas adventure near the big city, you will find few more ideal locales than Round Rock. It is located just a stone's throw from the state capital, Austin, but borders enough wilderness to host boat regattas and regular cycling events. For the dirt-biking cyclist, the area around the town provides a number of choices for both semi-urban and totally rural off-road experiences.
Brushy Creek Regional Trail
Brushy Creek Regional Trail is a close haven for the novice dirt bike enthusiast, only minutes from downtown Round Rock. It offers over five miles of varying terrain, from serene, straight paths that run over a mile to sprawling twists and turns that spread like a spiderweb across the land. The trail boasts scenic views of Brushy Creek lake and forested paths. The challenge level is moderate to low. Probably the best part of this location is the free admission and relaxed pace. The only downside to your experience is the occasional foot traffic from hikers and paved stretches near the dam.
Emma Long Metropolitan Park
Emma Long Metropolitan Park is within close driving distance of Round Rock proper and has a number of convenient features for the off-road bike enthusiast. It boasts challenging bike-only trails that are kept free of foot traffic, lovely lakeside forests and enough other activities (such as boating, fishing and hiking) that you might want to spend a weekend. Being close to the city means that you can find a decent meal with a short drive, but also means you lose some of the quiet isolation of more remote sites. There is a fee for using the facilities, which varies depending upon the day of the week.
ADVMX
ADVMX is a site dedicated to dirt bike riding for people of all ages and abilities. It provides three separate trails to accommodate different skill levels and gives a unique challenge to each. Unlike many other sites, ADVMX provides a more "spectator sport" approach to the hobby, hosting regular racing events and providing seating for an audience. The site also provides rental bikes for those who need them, and various amenities including public restrooms and camping facilities. The usage fees for their well-maintained tracks were $20 per rider at time of publication, though there are also spectator fees during certain times and events.
CrossCreek Cycle Park
CrossCreek Cycle Park, within 20 miles of Round Rock, is a place where a dirt bike adventure unfolds. It has a variety of wide, dirt covered trails for all levels of skill, with some dedicated solely to dirt bikes alone. It also has well lit paths where you can ride late into the evening. The site contains restrooms and other facilities, as well as locations for people who wish to camp. At the time of publication, site fees are $10 per rider on weekdays, and $20 on weekends, with special rates for families utilizing a single vehicle or camping together.
Resources
Photo Credits
Jupiterimages/Comstock/Getty Images