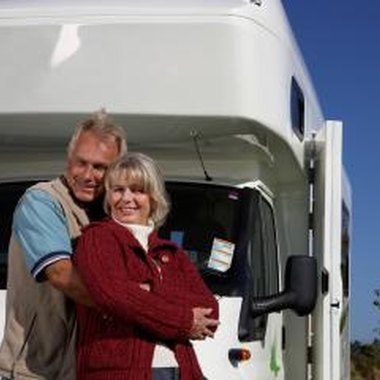 Seattle, Washington, provides motor home camping enthusiasts with a range of options just outside the city. The climate is temperate and fosters flora and fauna all year for outdoorsy-types. Motor home camping is an option for families looking to visit the Pacific Northwest without the need for high hotel costs. At the time of publication, rates for motor home camping in the Seattle area start around $20 a night.
Trailers Inn RV Park
Trailers Inn RV Park Seattle/Bellevue (trailerinnsrv.com) offers full accommodations for parking your motor home. Free Wi-Fi, cable TV and phone hookups are offered. For accommodation of larger motor homes, RV sites of 67 feet long are offered. Pets are welcome on-site. Children have access to a playground during their visit. The family will enjoy a heated pool, sauna and game room year-round. Rates range from $22 to $48 a night. Weekly rates also are available. Visitors may enjoy skiing at the nearby White Pass Ski Area.
Vasa Park Resort
Vasa Park Resort (vasaparkresort.com) is a camping ground that offers amenities for a range of camping needs, including motor home hookups. Hookups include water, sewer and electricity. The resort offers Swedish dancing and crafts for children. Park visitors may also learn or practice the Swedish language. The resort hosts a late-summer Swedish cultural festival annually. Boating and swimming are available on Lake Sammamish. Rates start at $26 for motor home campers.
Lake Pleasant RV Park
Just 25 minutes from Seattle, Lake Pleasant RV Park (no website; 24025 Bothell Everett Hwy., Bothell; 425-487-1785) offers a range of motor home camping options. Hookups are available for 20, 30 and 50 amps. Propane gas and a dump station also are available. Basic amenities include shower and laundry facilities, as well as ice and public phones. Rates are by family, starting around $20.
Blue Sky RV Park
Blue Sky RV Park (blueskypreston.com) is less than a 30-minute drive from Seattle in nearby Issaquah. Rates are offered for nightly, weekly and monthly stays. Parking spaces are paved and surrounded by landscaping and trees for some privacy. Monthly customers gain additional access to phone services. Soft drink vending machines, barbecue pits and recreation rooms are offered on-site. Credit cards are not accepted.
Resources
Photo Credits
Paul Sutherland/Digital Vision/Getty Images